As an Amazon Associate, we earn from qualifying purchases.
Do you love sinfully tasty crispy fried chicken, but hate the oil and fats? Make a healthier crispy chicken alternative without the grease! Yes, you read it correctly! With a heaven-sent air fryer, it's now possible. We will share how to make crispy yet juicy and tender Garlic Panko Crusted Chicken Breast that your family will love. It's a perfect go-to recipe for dinner without the usual splattered messy oil all over the stove.
Healthy Chicken Breast Air Frying
Have you heard of healthy frying? Air frying is a widespread healthy alternative to the traditional deep-frying using an air fryer. With this modern cooking device, you'll enjoy an exterior crisp just like a pan-fried chicken without the oil. There's no need to worry because it won't turn out soggy like chicken cooked in the oven. Should I mention that cleaning after cooking in the air fryer is just a breeze? It cuts down cleaning time, which is a big bonus for you! It just means more time for other stuff that's significant for you.
This Garlic Panko Crusted Chicken Breast Air Fried recipe is all you need to satisfy a chicken craving any time you need. Simply coat the chicken breast in panko bread crumbs with seasoning and air fry to perfection. For those who watch what they eat (We all must!), here's good news! This recipe is lower in fat and calories, which means you don't have to feel guilty when you have a good appetite for it. So, go ahead. Dig in! Share the air fried chicken with your family.
Pair It with Air Fried Veggies!
It won't hurt to go extra with healthy food. How about making air fryer zucchini, yellow squash, and yellow onion to pair with your awesome air fried chicken? Or, as we have in our photos, try air fried spaghetti squash. Have perfectly cooked veggies on the side without the fuss.
Garlic Panko Crusted Chicken Breast Air Fried
Keyword:
Air Fried Chicken Breast, Air Fryer Chicken Breast, Garlic Panko
Ingredients
1

cup

panko crumbs

1

tsp

garlic powder

1/2

tsp

salt

1/2

tsp

black pepper

2

eggs

4

chicken breasts
Instructions
Tenderize and flatten the chicken breast.

Crack eggs into a bowl and stir.

Mix panko crumbs, garlic powder, salt, black pepper on a plate.

Dip chicken in egg, covering the chicken completely with panko mixture.

Place chicken breast into the air fryer basket. (We used air fryer parchment paper to prevent sticking, and Chicken WILL stick.)

Cook at 380° F / 187° C for 10 minutes. Check the temperature with a meat thermometer, if the internal temp is below 165°F / 75°C; flip and cook the chicken for an additional 5 minutes.
Tools and ingredients used in this recipe: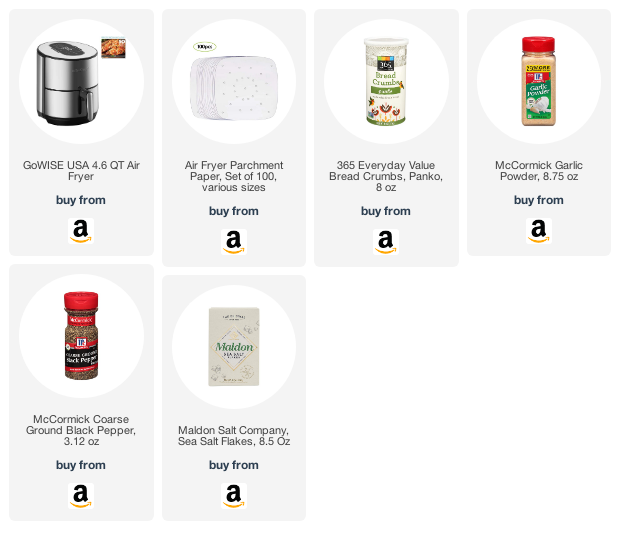 Amazon and the Amazon logo are trademarks of Amazon.com, Inc, or its affiliates.