As an Amazon Associate, we earn from qualifying purchases.
Are you looking for a quick and easy recipe for a weeknight dinner? Check out our Air Fryer Meatballs that are perfect to get your family stuffed without you feeling drained. Within 20 minutes, you can serve a delicious meal that is grease-free! Hooray for a healthier dinner! Just a warning though, these Air Fryer Meatballs can be pretty addicting. Once you've cooked this recipe in an air fryer, you'll never look back. Each meatball is crispy on the outside and juicy and tender inside. Try it yourself. Each bite will make you regret those days you deep-fried meatballs and ate them without hesitation, thinking that's the best that you can get. Well, that is history because air frying gives you easy and healthier food alternatives in no time.
You can eat the tasty Air Fryer Meatballs on their own. Everything goes well with meatballs actually that you can toss them on your pasta or noodles, pour your favorite sauce on them, or pair them with bread, cheese, soup, rice, or vegetables. They're a versatile dish that can go a long way. So, having a meatball stash in your freezer can be handy. You'll never starve that's for sure! Just throw in some frozen meatballs in your air fryer, and be ready to dig in in a few minutes.
Enjoy perfectly-cooked meatballs bursting with flavors in every bite. Since you have tons of choices to pair them with, you may want to toss them onto Spaghetti Squash in the Air Fryer. It's not your ordinary spaghetti but a healthy alternative and if you want to go easy on the carbs, it's worth the try. With an air fryer, you can healthily cook meals without the usually long and tiring method. Cooking with an air fryer is like a healthy short cut everybody should be aware of.
For frozen meatballs or other frozen foods, visit our frozen food cooking chart.
Air Fryer Meatballs
Keyword:
Air Fryer Meatballs, air frying meatballs, Frozen meatballs in air fryer, meatballs in air fryer
Ingredients
1

lb

ground beef

1

egg

1/2

cup

bread crumbs

1/4

cup

milk

1/2

teaspoon

salt

1/4

teaspoon

pepper

1/2

teaspoon

Worcestershire sauce
Instructions
Preheat air fryer to 400° F / 205° C

Form meatballs about 1 1/2inches | 3.8cm thick.

Place in air fryer basket.

Cook for 12 minutes at 400° F / 205° C.
Tools and ingredients used in this recipe: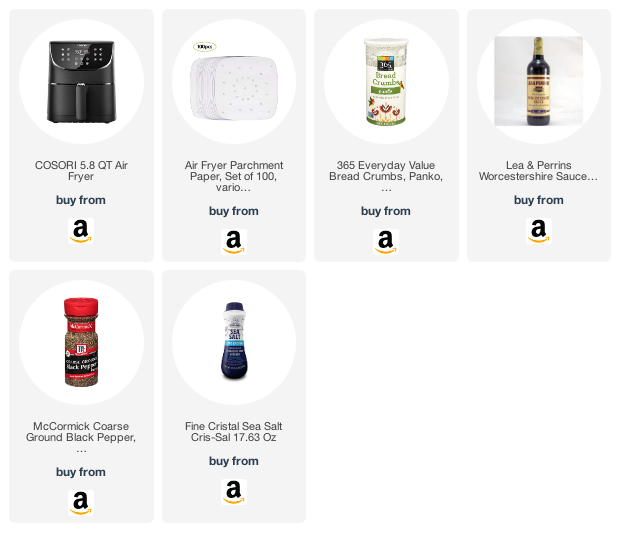 Amazon and the Amazon logo are trademarks of Amazon.com, Inc, or its affiliates.