As an Amazon Associate, we earn from qualifying purchases.
Making hard-boiled eggs isn't difficult, but perfecting hard-boiled eggs is easier said than done. My previous go-to method was to add the eggs to a pot, fill it with water, then bring the water to a boil. As soon as the water went to a rapid boil, I would turn off the burner and let the eggs and water cool down. This method works well, but it requires a sufficient amount of time and the eggs can be difficult to peel. Annoyingly difficult (says my husband who has no fingernails to speak of).
Benefits of making hardboiled eggs in the air fryer
Even before owning an air fryer, I wanted a better method. Happily, the air fryer isn't just a better method, the air fryer is the superior method!
No Cracking, Faster Cooling, Easy Peeling
Boiling eggs can easily crack, air frying eggs do not. My previous method required an hour to cool down sufficiently; the air fryer method takes a fraction of the time for the eggs to cool. Peeling eggs can be messy, but I've found air fried eggs to peel easily.
How to cook eggs in an air fryer
The good news is you don't have to have any special add ons to your air fryer to cook eggs. If you're air fryer came with a rack made especially for this, terrific! But don't feel like you need to buy one just for this use.
Without a wire rack, just be gentle when placing the whole eggs in the air fryer basket. Be sure to spritz the eggs with an air fryer-friendly oil to ensure they don't stick together. (And be sure to spritz them after they are in the basket. If you do it before, they will be very slippery and may never make it into the basket. Ask me how I know.)
Prepare your ice bath while the eggs are cooking. Depending on how quickly you need to use/eat them, as little as five minutes in the ice bath should cool them down sufficiently to use.
Air Fryer Hard-Boiled Eggs
Keyword:
Air Fried Hard Boiled Eggs, Air Fryer Hard Boiled Eggs, Hard boiled eggs in the air fryer
Ingredients
Hard-Boiled Egg Ingredients
6

Large Eggs

1-2

Spritz

Oil

prevents the eggs from sticking to each other.
Instructions
Hard-Boiled Egg Instructions
Place the wire rack or egg attachment that came with your air fryer or accessory kit in the air fryer. If you do not have a wire rack, you may place them gently in the bottom, but be aware that the eggs may move around.

Place all 6 eggs on the wire rack. If any eggs are touching each other, lightly oil the eggs as they WILL stick together.

Cook at 260° F | 126° C for 15 minutes.

Remove eggs (with tongs or a hand towel) and place them in an ice-water bath immediately for 10 minutes. Refrigerate.

Pro Tip: If you are going to peel the eggs immediately for consumption, crack them before the ice bath, it makes the eggs peel much easier.
Try one of these other great air frying breakfast recipes:
Tools and ingredients used in this recipe: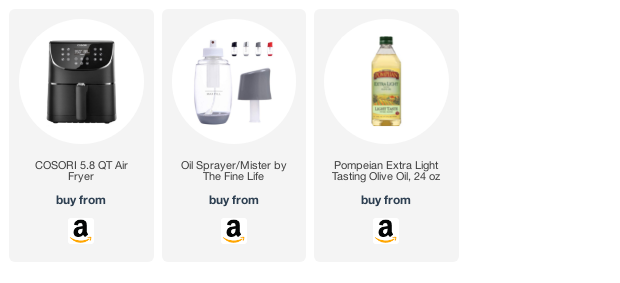 Amazon and the Amazon logo are trademarks of Amazon.com, Inc, or its affiliates.