As an Amazon Associate, we earn from qualifying purchases.
While at Trader Joe's the other day, I found these Mac and Cheese bites in the freezer section. I instantly thought, "I have to air fry these babies."
Mac and cheese bites are a fun side to any sandwich and are an easy appetizer for dinner. Pick them up in the freezer section of your local grocery store.
After a bit of experimentation, we found that the flatter sort of mac & cheese bites (like those pictured here) cooked in around 8 minutes, whereas the larger spherical shaped bites (like the ones I found at Trader Joe's) took a few minutes longer to cook.
Mac and Cheese Bites
Keyword:
Air Fried Mac and Cheese bites, Air Fryer Mac and Cheese bites, Mac and Cheese bites in the air fryer
Ingredients
Ingredients
3

Mac and Cheese Bites

We used Trader Joe's brand.
Instructions
Instructions
Preheat your air fryer to 360°F | 183°C

Add in your mac and cheese bites.

Air fry the mac and cheese bites at 360°F | 183°C for 8-10 minutes depending on if the bites are the round kind (10 minutes), or the flatter kind (8 minutes)
Recipe Notes
You can use air fryer parchment liners for this recipe if you choose. Mac and cheese bites shouldn't stick to the basket, but the liners will help with clean up. Especially if one of the bites loses some filling while heating.
Try one of these other amazing appetizers cooked in an air fryer:
Tools used in this recipe: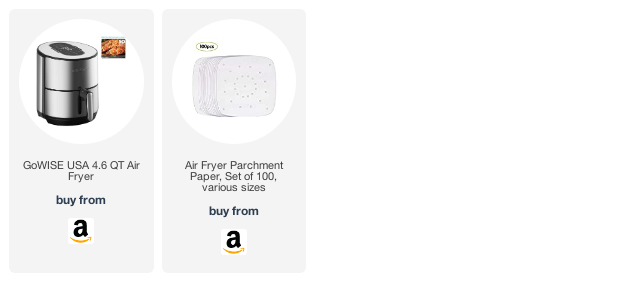 Amazon and the Amazon logo are trademarks of Amazon.com, Inc, or its affiliates.