As an Amazon Associate, we earn from qualifying purchases.
Having grown up in a small community, I have always loved when the fair came to town. To me, the fair meant corn dogs and I LOVE corn dogs.
I have cooked corn dogs in the microwave, but they come out a bit chewy. I have cooked corn dogs in the oven, but they tend to be a little undercooked in all the wrong places. The best way to cook a frozen corn dog at home apart of having a deep fryer, are frozen corn dogs in the air fryer.
In just 7-8 minutes you can have perfectly cooked mini corn dogs. Follow these steps for the one trick to air fry these beauties perfectly. If you're looking to air fry full-size frozen corn dogs, check out this post.
Try one of these frozen food air fryer recipes:
Frozen Mini Corn dogs in the air fryer
Keyword:
Air Fried Mini Corn Dogs, Frozen Mini Corn dogs in the air fryer
Ingredients
1

serving

Frozen Corndogs

(one serving is 4 mini corn dogs)
Instructions
Preheat your air fryer
Preheat your air fryer to 360° F | 176° C
Cooking Instructions
Place your mini-corndogs in a single layer in the bottom of your air fryer. Adding more than one layer will make them cook unevenly, and you may possibly get some undercooked corn dogs...and nobody wants that.

Air fry for 360° F | 176° C for 4 minutes. Shake the basket, and air fry for an additional 4 minutes. Add a minute if you prefer a crispier mini corn dog or if your air fryer tends to undercook.
Recipe Notes
NOTE:  Use a meat thermometer to make sure that your mini corn dogs are at least 165°F | 74°C.  Some air fryers run hotter than others.
Tools and ingredients used in this recipe: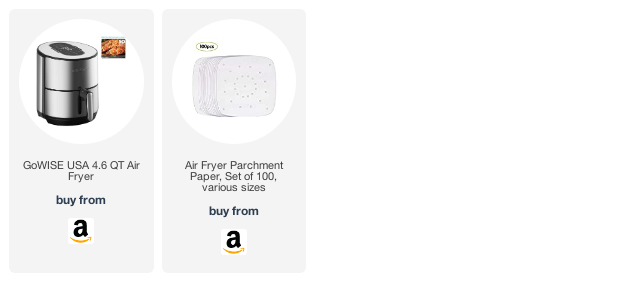 Amazon and the Amazon logo are trademarks of Amazon.com, Inc, or its affiliates.