As an Amazon Associate, we earn from qualifying purchases.
Here we are once again at the beginning of a new year. What will 2019 hold for you? More time with family? Fitness goals? Financial milestones? Whatever your goals for this year, it's never a bad idea to focus on healthier eating. So on the first day of 2019, Air Frying wants to help you reach your full potential with some healthy air fryer recipes.
Air Frying: An Easier, Healthier Alternative
For those of you who enjoy convenient healthy meals that don't make you feel like you're missing out on the foods you love, air frying is a faster, healthier alternative to deep frying. Prepared with minimal to no fatty oil and fried through rapid air technology, rather than hot oil, air frying your favorite foods–even foods that aren't "health" foods–cuts back on additional fat and calories from submerging your food in unhealthy oils.
In addition to providing healthier options, air frying also saves time. First, it cuts out the 8-15 minutes of pre-heating time your oven requires. Just put the food in the basket, set the temperature, set the timer, and go! Because of the rapid air technology, food also cooks faster than baking it in the oven. One of my favorite things to do in the air fryer is meal prep. While potatoes bake in the oven, I can prepare chicken tenderloin or lean pork chops in the air fryer, cutting my time in half.
So, if you're looking for faster, healthier alternatives in the new year, air frying just might be for you.
Healthy Air Fryer Recipes: Main Courses
If you're looking for a welcome departure from a typical meat and sides meal, then try our General Wong's Beef and Broccoli. With healthy broccoli and lean beef, this dish is packed with fiber and nutrients. For those of you who are gluten-free diets, like Paleo, Whole 30, or Keto, simply substitute the soy sauce for coconut aminos and enjoy this dish, guilt-free!
When the new year strikes, many people decide to reduce their intake of meats and opt instead for beans, often touted as a nearly perfect food. Packed with nutrients and fiber, low-glycemic black beans make a great alternative to beef. Whether you're a vegetarian, vegan, nutritarian, or someone who is simply trying to make healthier decisions, try out our delicious black bean burgers.
One of our most popular recipes, bone-in-pork chops are healthy and fast in the air fryer. This recipe is one of our favorite for meal prep or quick weeknight dinners. Plus, lean pork is a cost-effective choice on many popular protein-dense diets, like Keto, Paleo, and Whole 30.
Rich in omega-3 fatty acids, salmon is a staple in many popular healthy diets. When prepared in the air fryer, cooking salmon for the entire family is quick and easy. With just a drizzle of olive oil to lock in the moisture and prevent dryness, this is one of our favorite and most popular recipes.
If you're not a fan of fish, tilapia is a mild-tasting fish that even the pickiest of seafood haters can tolerate. Low in fat and calories, tilapia can provide a satisfying alternative to fattier meats.
Once you try our whole chicken in the air fryer, you'll never cook this dish in the oven ever again! Whole chicken will feed an entire family of five and is a wonderful choice for meal prep. Cooking whole chicken in the air fryer saves a bit of time and delivers a crispy on the outside, juicy on the inside main course that will have your family begging for seconds.
Healthy Air Fryer Recipes: Sides
After a long day of work, one thing I find tedious is the 15-minute wait required for my oven to preheat to the high temperature it takes to bake a potato. But thankfully, I have an air fryer. Right of the bat, it saves at least fifteen minutes of prep time, and when cooked at 400, your baked potato will be cooked to perfection in 35-45 minutes, depending on its size.
Most healthy diets include calciferous veggies like broccoli and cauliflower. But sometimes, ho-hum steamed broccoli can get really old really fast in many families. Most of the time, our first instinct is to add cheese, which does taste delicious, but it also adds undesirable fat and calories. Try our broccoli with Parmesan and panko. This low calorie, low fat side is packed with fiber and nutrients.
These delicious, crisp legumes are a welcome alternative to boiled green beans. When cooked in the air fryer, these al dente beans are an appealing bright green and packed with flavor. This is one of our favorites!
I'm not sure how I ever existed without spaghetti squash. I discovered this nutrient-rich, low-carb alternative to pasta a couple of years ago and have never looked back. While I have prepped with a dish in the oven, microwave, and slow cooker, my favorite cooking method is the air fryer, which saves time!
Cook your sweet potatoes in the air fryer for a fast, efficient way to enjoy a delicious, cooked-to-perfection, healthy side dish.
Popular on most nutrient-dense or low carb diets, zucchini, squash, and onions are a staple in our home. I add just enough olive oil to lightly coat these veggies for added flavor and then season to taste. This side is definitely worth the chopping time!
Air Fry with these great air frying accessories: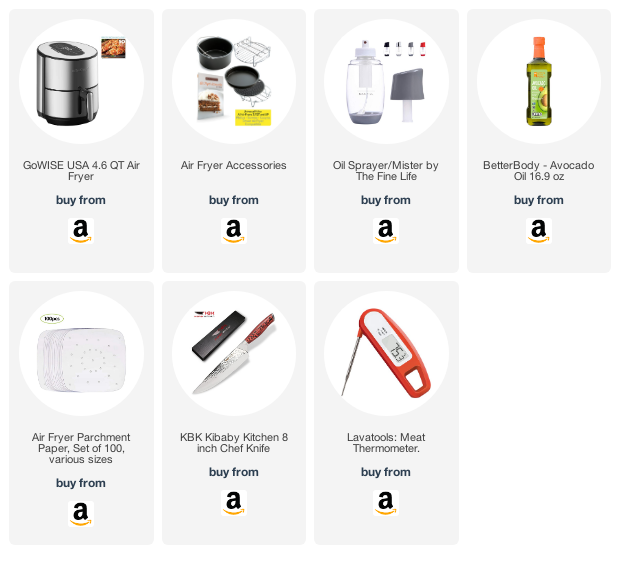 Amazon and the Amazon logo are trademarks of Amazon.com, Inc, or its affiliates.