As an Amazon Associate, we earn from qualifying purchases.
One of the easiest, fastest foods to cook in an air fryer is fish, and one of the most popular fish to serve for dinner is tilapia. Easy to cook and mild in flavor, air fryer tilapia makes for a fast, healthy meal your entire family will love. Whether panko-crusted or simply seasoned,  cooking tilapia fillets in your air fryer will be a solution to weeknight meals your family will love.
Health Benefits of Tilapia
Though air fryer tilapia isn't considered a superfood, its many health benefits have made it a popular choice at markets and grocery stores nationwide. With its anti-aging and anti-inflammatory properties, this high-protein, low-fat fish is recommended for losing weight, improving symptoms of arthritis, and boosting the immune system. This tasty fish is also packed with vitamins and nutrients, including omega-3 fatty acids, that have made it popular for many diets. For more information about the health benefits of tilapia, click here.
This meal is delicious when paired with our roasted potatoes and green beans.
Try one of these other great air fried seafood recipes:
Air Fryer Tilapia
Your go-to guide for Tilapia in the air fryer.
Keyword:
Air Fried Tilapia, Air Fryer Tilapia, Tilapia in air fryer
Instructions
Sprinkle fillets with your favorite seasonings. (we choose mixed up salt)

Spray the basket of your air fryer with non-stick cooking spray or spritz with cooking oil

Air Fry the tilapia at 400 ° F | 205 ° C for 8-12 minutes, turning once.
Tools used for this recipe: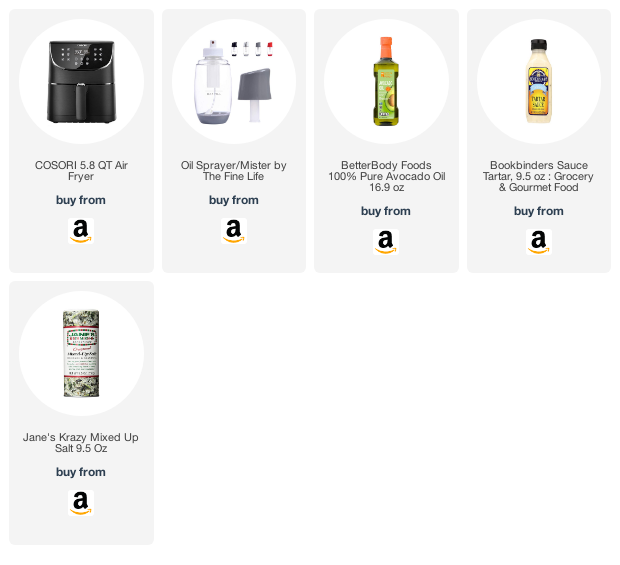 Amazon and the Amazon logo are trademarks of Amazon.com, Inc, or its affiliates.