As an Amazon Associate, we earn from qualifying purchases.
One of my favorite things to eat for breakfast growing up was Strawberry Pop-Tarts, later, I grew to like Toaster Strudel almost as well.
Toaster Strudels had that icing that you could pour over the strudel, which made them tasty at home, but for portability…Pop-Tarts were king. As I got older, for some reason (probably health reasons) I stopped buying them altogether. But because of the COVID-19, there wasn't much left on the grocery store shelves, so I bought a box of Pop-Tarts for a quick easy companion to a cup of coffee. I thought about it for a second, then went back for a box of Toaster Strudel as well. I thought this was a perfect time to do a post about my favorite breakfast junk foods.
Since I do not own a toaster anymore, I figured that this may be the perfect time to try a Pop-Tart or Toaster Strudel in the air fryer.
For other breakfast ideas try one of these breakfast favorites:
Pop Tarts, Toaster Strudel
Keyword:
Air Fried Pop Tarts, Air Fried Toaster Strudel, Air Fryer Pop Tarts, Air Fryer Toaster Strudel, Pop Tarts in the air fryer, Toaster Strudel in the air fryer
Ingredients
1

package

Pop Tarts

or

1

package

Toaster Strudel
Instructions
Preheat air fryer to 350° F | 176° C

Add Pop-Tart or Toaster Strudel to the air fryer

Air Fry for 7 minutes (because of the icing, do not flip)

**For Toaster Strudel, add icing
Tools and ingredients used in this recipe: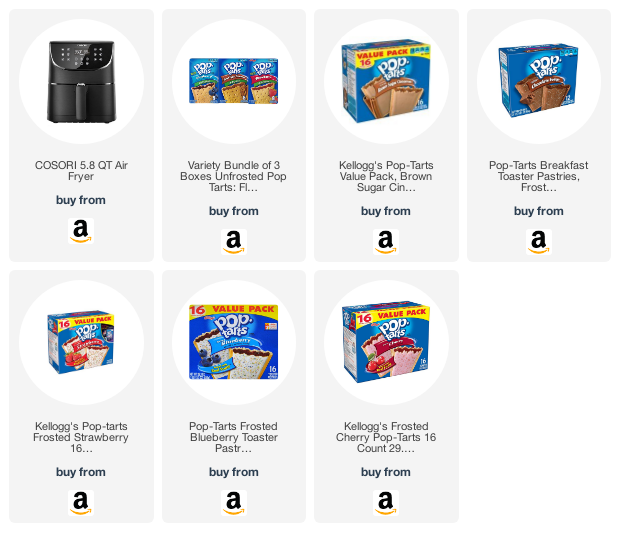 Amazon and the Amazon logo are trademarks of Amazon.com, Inc, or its affiliates.