As an Amazon Associate, we earn from qualifying purchases.
You asked, and we are answering! We get a variety of recipe requests through AirFrying.net, but one of the most frequent suggestions is a post explaining how to cook hash browns in the air fryer. Some have even questioned whether or not it can be done. So let me put your fears to rest – it can be done, and we're here to tell you how to air fry frozen hash browns.
Like most things, getting the hash browns right took some trial and error. So I will tell you what your challenges will be and how to avoid them.
The main challenge is the strips of frozen hash browns sticking to the bottom of your basket (and yes, this will happen, despite your non-stick coating). The solution, however, is an easy one – place an air fryer parchment paper in the bottom of the basket. Then, pour your hash browns on top.
Another challenge is even cooking. One of the tricks I have learned is to spritz the top of the hash browns with olive oil. This achieves a crispy outer layer that will provide the texture you want. It will also serve as an edible adhesive, holding your hash browns together so that you can flip them over with a spatula halfway through the cooking process. Once you have flipped the hash brows, spritz the top layer once more with olive, avocado or canola oil.
It could be tempting to skip oiling them since you might be using your air fryer to cut down on added fat in your diet. DON'T DO IT. If you air fry the plain frozen hash browns straight from the bag, they will have very little flavor and will not be particularly appetizing. Once the frozen hash browns are in the air fryer, I sprinkle salt and pepper on them then spray the top with oil. You could put any seasoning you like on before the oil spray, or even put the frozen hash browns in a bowl with seasoning and oil and toss together before putting in the air fryer. Whatever you decide to do, definitely add flavor before air frying.
When the hash browns are finished, simply plate and remove the parchment round from your basket. Easy peasy!
For other breakfast ideas try one of these breakfast favorites:
Air Fryer Hash Browns
Keyword:
Air Fried Hashbrowns, Air Fryer Hashbrowns, Hashbrowns in air fryer
Ingredients
Ingredients
1/2

bag

hash brown potatoes (470 calories per cup)

I used Ore Ida

spray oil

salt and pepper
Instructions
Instructions
Place a vented parchment round in the basket of your air fryer.

Add a thin layer of frozen hash browns.

Sprinkle with salt and pepper (or other desired seasoning) then spray the top layer with oil.

Cook for 7 minutes at 370°F | 165°C.

Flip the hash browns and spritz with oil again.

Cook for another 7-8 minutes or until desired color and texture are achieved.
Tools and ingredients used for this recipe: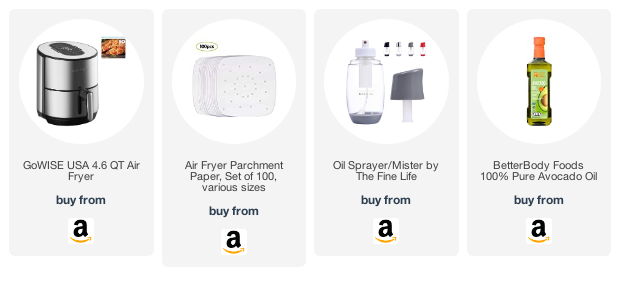 Amazon and the Amazon logo are trademarks of Amazon.com, Inc, or its affiliates.