As an Amazon Associate, we earn from qualifying purchases.
Who doesn't appreciate a batch of crisp, delicious, golden-fried chicken strips paired with the perfect sauce? Well, now you can enjoy them from your very own kitchen by learning how to cook frozen chicken strips in the air fryer.
Why Air Fry?
Air frying will help you serve up a meal your entire family will love. It will also save time, calories, and fat by cooking your favorite brand of frozen chicken strips in the air fryer. When prepared in the air fryer, these chicken strips will provide your family with a healthier option, reducing the amount of exposure to unhealthy oils in comparison to the traditional method of deep-frying.
In fact, the entire process takes only 12 minutes, which costs less time and money than it would take to wait on a table at your local chain restaurant. Plus, you can choose to pair them with a classic side of frozen fries or choose healthier options like salad, green beans, slaw, or broccoli. The result is a delicious meal that can be prepped and cooked in under 15 minutes, which is perfect for a quick weeknight dinner that can be prepped between activities or a weekend family dinner your kids can help make.
From frozen to plate in 12 minutes, serve these crisp golden chicken strips with your favorite BBQ, honey mustard, or ranch dipping sauces for a fun family dinner served at the table, where you'll share more than just great food.
Frozen chicken strips in the air fryer
Keyword:
Air Fried Frozen Chicken Strips, Air Fryer Frozen Chicken Strips, Frozen Chicken Strips in the air fryer
Ingredients
Ingredients (one serving is 3oz)
1

bag

Frozen Chicken Strips

(We used Kirkwood from Aldi's)

1

spritz

Cooking oil

high-temperature oil is preferred
Instructions
Instructions
Spritz the basket of your air fryer with your favorite oil or spray

Line the basket of your air fryer with frozen chicken strips.

Cook at 390°F | 199°C for 12 minutes, flipping the chicken strips with 6 minutes remaining on cook time.
Tools and ingredients used in this recipe: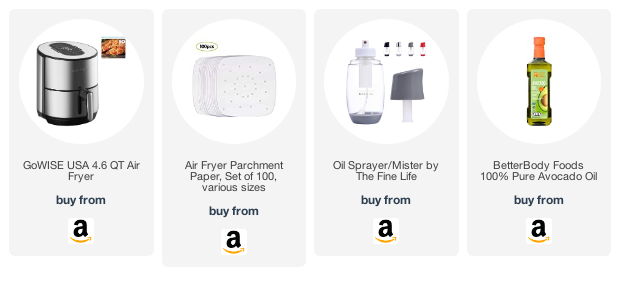 Amazon and the Amazon logo are trademarks of Amazon.com, Inc, or its affiliates.