As an Amazon Associate, we earn from qualifying purchases.
If you're a parent, then you know the stress of going from the school pick-up line to home to weeknight ball practice, dance lessons, or karate, not to mention all the weekend activities. Sometimes, we're so busy, we wind up in the drive-thru line purchasing high-fat, high-calorie meals for the ones we love most. But the good news is that there is a healthier alternative. Thanks to your air fryer, you can prepare delicious meals your kids will love in the time it takes to swing through your local fast-food restaurant. For a quick meal, your kids can eat and run, we recommend air fryer frozen chicken fries.
Why Air Fry?
While these kid favorites aren't innately healthy, using your air fryer drastically reduces the fat and calories they would consume from the local BK. Plus, air frying provides the crisp texture of deep-frying without the use of excessive unhealthy oils. Air fryer frozen chicken fries can also be paired with a healthier side item than french fries or tater tots.
In the eight minutes it takes to air fry the chicken fries, you can steam a side of green beans and whip up some instant mashed potatoes on the stovetop. The result is a healthier meal your kids will love prepared in under ten minutes. Simply cook, serve, and then load the kiddos in the car for a mid-week Tball game or soccer practice.
Try one of these air fried  recipes:
Air Fryer Chicken Fries
Air Fryer Frozen Chicken Fries
Keyword:
Air Fried Frozen Chicken Fries, Air Fryer Frozen Chicken Fries, Frozen chicken fries in the air fryer
Ingredients
Ingredients
1

bag

Frozen chicken fries

(We use Kirkwood from Aldi)

1

spritz

Oil
Instructions
Instructions
Spritz your favorite oil in the bottom of your air fryer basket. I recommend high heat cooking oil like Avocado oil. High heat oils prevent any smoke at high temperatures.

Line the bottom of your basket with chicken fries.

Cook in your air fryer at 390°F | 199°C for 8 minutes shaking air fryer basket halfway.

If at 8 minutes, your chicken fries are not golden enough, cook for up to an additional 2 minutes.
Tools used in this recipe: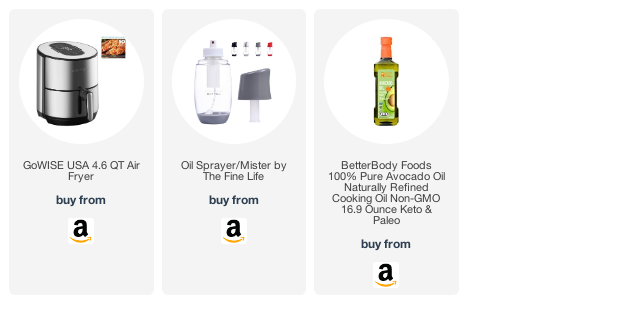 Amazon and the Amazon logo are trademarks of Amazon.com, Inc, or its affiliates.