As an Amazon Associate, we earn from qualifying purchases.
There is just something powerful about fries that defy the typical shape. A regular french fry is just straight forward and average, but a waffle or curly fry? Bring it on! That's why we love these air fryer frozen curly fries!
Why Air Fry?
Ready in only minutes and boasting the same texture as the deep-fried variety, these healthier fries will be the perfect sidekick to burgers, chicken tenders, or another favorite grilled protein. Plus, they're curly, which means you and your kiddos will enjoy every bite.
And the options are endless. At most local grocery stores, there are so many varieties of curly fries, you'll have a difficult time choosing an option. At our local grocery, we found regular curly fries, zesty curly fries, sweet potato curly fries, and zesty sweet potato curly fries. Take your pick – they will all cook perfectly in your air fryer.
Regardless of the variety, these delicious curly fries will go from frozen to fantastic in about 10 minutes at a temperature of 400 degrees Fahrenheit. It is important to note, however, that the cook time will be longer and the result less even if you put too many fries in the air fryer at once. We used half a bag, which was more than enough for our family of three, but if cooking for more than four, you'll want to cook an entire bag in two batches.
Frozen fries — whether curly, waffled, steak, or French cut — prepared in the air fryer are great sides for those hectic weeknight dinners.
Air Fryer Frozen Curly Fries
Keyword:
Air Fried Frozen Curly Fries, air fryer frozen curly fries, Frozen Curly Fries in Air Fryer
Ingredients
Ingredients
1/2

bag

Frozen Curly Fries

Regular or sweet potato variety. Our preference is the Arby's Frozen Curly Fries.
Instructions
Instructions
Spritz air fryer basket with your favorite oil. I use avocado for regular curly fries and coconut oil for sweet potato curly fries.

Add 1/2 bag of your favorite brand of curly fries. We used Arby's Brand curly fries for this recipe. 

Cook at 400°F | 204°C for 10 minutes, shake once or twice for even cooking.

Serve with your favorite dipping sauce or ketchup, plate, and enjoy!
Tools and ingredients used for this recipe: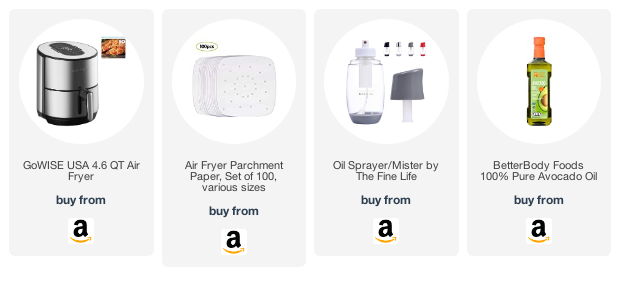 Amazon and the Amazon logo are trademarks of Amazon.com, Inc, or its affiliates.