As an Amazon Associate, we earn from qualifying purchases.
Whether you're on a special vegan diet or just love great food, you're really missing out if you've never tried falafel. And when cooked in the air fryer, this tasty Mediterranean dish serves up all the flavor without the excess fat. So read on to find out how to cook falafel in the air fryer.
What is Falafel?
Falafel is a middle eastern dish often served inside pita bread or with rice and salad. It is a small croquette typically made of chickpeas and a variety of spices. Most restaurants serve falafel with tahini sauce or tzatziki sauce for dipping. 
I first tried falafel about five years ago while having lunch with a group of ladies who were all either vegetarian or vegan. As the lone carnivore in the group, I'll admit to my skepticism when we wound up at Safier's Mediterranean Deli in downtown Louisville, Kentucky. With no clue what to order, one of my friends suggested a falafel platter, and I discovered that I could eat falafel every day of the week. Now, I order it from the menu any time we are eating somewhere it is served. But to this day, I've never had better falafel than the variety served up at Safier's. I make a point to stop in every time I'm in Louisville, and someday, I hope to know their secret spices.
Fresh Ingredients are Key
In the meantime, I've been experimenting with my own falafel, opting to cook it in the air fryer, rather than the deep fryer. What I've discovered is that texture and fresh ingredients are the "key" to great falafel. First, using dried chickpeas is crucial. By soaking the dried chickpeas, you get a firmer texture, which ensures your mixture won't be too wet. Secondly, you can add a bit of chickpea flour to the mixture if you find that it is too moist and won't shape properly. Finally, using fresh cilantro and parsley is an absolute must! Fresh ingredients really amp up the flavor.
Adjust the Spices Accordingly
Speaking of which, the measurements of the spices in your falafel is really up to you. I included a milder version in this recipe for those who aren't fans of cayenne pepper or other spices. However, in my opinion, bland falafel is boring falafel, so add that red pepper, crank up the cumin, and add a bit more salt.
Serve with tahini or tzatziki sauce for dipping, alongside basmati rice and salad greens. Falafel is also delicious wrapped in pita bread, a delicacy commonly known as a falafel sandwich.
Fresh Falafel – or – Frozen Directions
Air Fryer Falafel
Course:
Appetizer, Main Course
Keyword:
Air Fryer Falafel, How to cook falafel in the air fryer
Ingredients
Homemade Falafel Ingredients
2

cups

dried chickpeas

soak for at least 24 hours

1

diced onion

2

cloves

garlic, minced

1/2

cup

fresh parsley leaves

1/4

cup

fresh cilantro leaves

1-2

Tbsp.

chickpea/garbanzo bean flour

as needed for texture

2

tsp

ground cumin

2

tsp

coriander

1

tsp

turmeric

optional

1

tsp

black pepper

1/4

tsp

cayenne pepper

or 1/2 tsp, if you love spicy

1-2

tsp.

sea salt

I use more salt if serving with tzatziki sauce
Frozen Falafel Ingredients
Instructions
Homemade Falafel Instructions
Soak dried chickpeas in a large bowl of water for at least 24 hours.

Add all ingredients to the food processor and blend until you reach the desired texture. It should be sticky enough to roll but wet enough to stay together. Chill the dough for at least an hour but up to a day for best results.

Preheat your air fryer to 380° F | 180° C for 5 minutes.

Spritz air fryer basket with your favorite oil.

Roll into 1-2-inch balls and place in your air fryer basket, nine or ten at a time. Use a single layer of falafel for best results.

Air fry at 380° F | 180° C for 13-15 minutes. Larger falafel balls will require additional air frying, smaller falafel will require less air frying.

Serve with tahini or tzatziki sauce, or hummus.
Frozen Falafel Instructions
Preheat your air fryer to 380° F | 180° C for 5 minutes.

Spritz your air fryer with oil, or add an air fryer liner.

Add a single layer of frozen falafel to your air fryer. Air fry for 10 minutes at 380° F | 180° C. Note: If your falafel were relatively small you shouldn't need any additional time, but if you are preparing a large falafel ball (2"), then you may need to add additional time.

add to a pita, add some hummus, or tzatziki sauce, and enjoy!
Try one of these other great air frying recipes:
Tools and ingredients used in this recipe: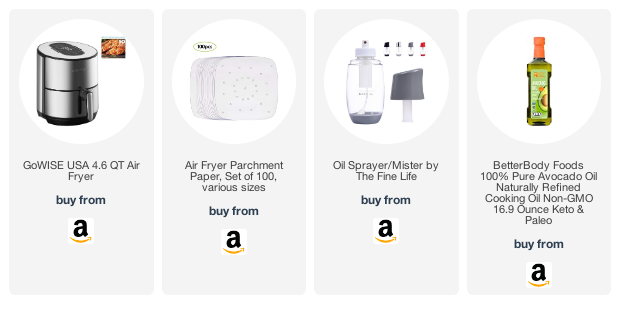 Amazon and the Amazon logo are trademarks of Amazon.com, Inc, or its affiliates.