As an Amazon Associate, we earn from qualifying purchases.
Warm weather is approaching, which means the season for outdoor barbecues and cookouts is almost upon us. But first, we have to contend with the rainy spring weather and a busy end to the school year. For a quick, easy alternative to grilling outdoors, we recommend this delicious air fryer steak.
Cooked to perfection on a rainy weekend or busy school night, these steaks are simply brushed in oil, sprinkled with your favorite seasoning, and cooked in your air fryer. You will definitely want to add this air fryer steak to your meal rotation for a super quick option on busy or rainy days when grilling outdoors is not an option. 
Why the Eye of Round?  It's cheap and economical.
For our dish, we used an eye of round steak, which is a smaller, thinner cut from the rear quarter of the beef.   The round steak is broken into three sections, top round, bottom round, and eye of round.  The top round is sometimes called London broil, round steak, or top round steaks, these cuts tend to be tougher and require marinating, or tenderized.   The bottom round also called Bottom Round London Broil, rump roast, or bottom round roast tends to be less tender than the top round.  The last cut of the round steak is the one that we will be cooking today is a tougher piece of meat because the animal uses this muscle to walk around,   Don't fret, although these tend to be tougher on average, a great marinade will soften them up and an air fryer will do the rest.
Paired with frozen french fries and healthy broccoli, air-fried steak provides a healthier means of cooking great-tasting meals when you find yourself pressed for time.
Air Fryer Steak (eye of round)
Keyword:
Air Fried Steak, Air Fryer Steak, Eye of Round Air Fried
Ingredients
2

servings of your favorite cut of beef

1/2-2

tsp

of your favorite steak seasoning

1

Tbsp.

Avocado or Light olive oil
Instructions
Sprinkle on your favorite steak seasoning

Cook at 360 ° F | 183 ° C for 12-15 minutes, flipping halfway. Use a meat thermometer to ensure that your steak is cooked to your satisfaction.
Recipe Video
Recipe Notes
Online Shopping List:
Ribeye
A friend of mine orders her steak by saying "Just wave it over the flames", and although I respect her steak choices, I prefer mine medium-well (I know…I am one of those).    What I am saying is that to each their own, but as a general rule with Air Fryers, and large pieces of meat, you should use a meat thermometer.   A large steak cooks differently than a thinner slice of meat, it is the same with pork chops, chicken breasts, and of course steaks.    So with a medium to medium-well Ribeye, I prefer the outside charred and the inside pink.
Ribeye
Keyword:
Air Fried Steak, Air Frier Steak, Steak in the air fryer
Instructions
Steak
Preheat to 400° F | 204° C

Add the Ribeye to the air fryer and air fry 7 minutes at 400° F | 204° C

Flip the Ribye over and air fry the Ribeye for an additional 7 minutes at 400° F | 204° C.

FOR RARE STEAKS use significantly less time, the USDA suggests that an internal temp of 145°F | 63°C is safe for consumption. Use a meat thermometer.
But you can prepare any steak in an air fryer with ease.
Cooking time will vary depending on the size of the cut, the thinner the cut, the faster your steak will cook.   So, if you have a thick steak, I suggest using a kitchen thermometer to get for the perfect steak.
| Preparedness | The center should be: | Internal Temperature |
| --- | --- | --- |
| Rare | Coolish red center | 125° F | 52° C |
| Medium Rare | Warmish red center | 135° F | 57° C |
| Medium | Warmish pink center | 145° F | 63° C |
| Medium Well | Slightly pink center | 150° F | 66° C |
| Well Done | No pink or very little | 160° F | 171° C |
Other recipes that pair well with this one:
Tools and ingredients used for this recipe: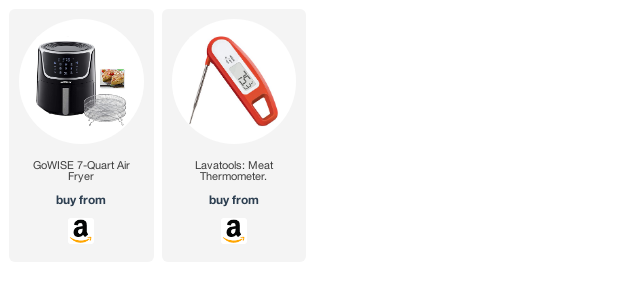 Amazon and the Amazon logo are trademarks of Amazon.com, Inc, or its affiliates.