As an Amazon Associate, we earn from qualifying purchases.
Broccoli is the perfect staple for any healthy diet, and if you're looking to add some flair and flavor to this diverse veggie, air frying is the answer. Air frying provides the perfect al dente texture, while the seasoning and Parmesan cheese add a flavorful finish that goes nicely with the full flavor of the avocado oil.
Paired with your favorite protein or served as a healthy snack, this delicious, quick dish is one your whole family will enjoy. Even our toddler asked for seconds!
Try one of these great sides:
Broccoli Parmesan made in the air fryer
Air Fried Broccoli Parmesan
Keyword:
Air Fried Broccoli Parmesan, Air Fryer Broccoli Parmesan, Broccoli Parmesan in the air fryer
Ingredients
1

bunch

Broccoli

2

tbsp

Avocado oil

1

tsp

Garlic powder

1

tsp

Italian seasoning

1/4

cup

Parmesan cheese

1/4

cup

Panko bread crumbs
Instructions
Instructions
Cut the broccoli into medium size heads, removing the stalks.

Put broccoli into bowl and combine avocado oil

Mix panko bread crumbs, parmesan cheese, salt, garlic powder, and Italian seasoning with broccoli.

Put mixture into air fryer for 8-12 minutes at 375 ° F | 190 ° C. Stir or shake halfway through. Start to watch the broccoli as cooking time is nearing completion as the broccoli will turn brown. Oil may help to prevent burning.
Tools and ingredients used in this recipe: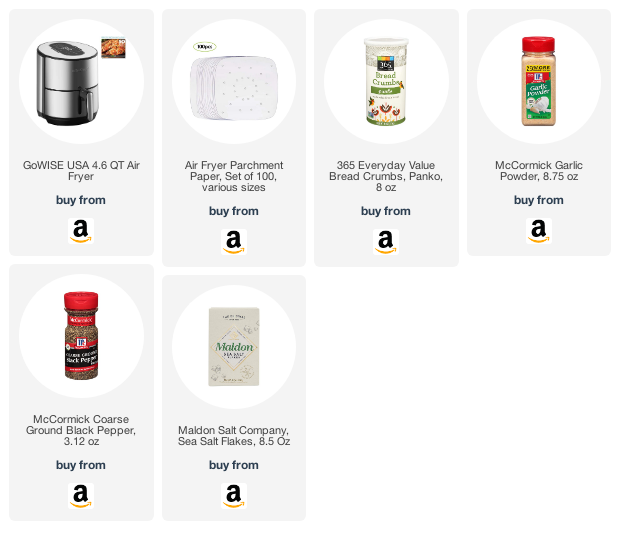 Amazon and the Amazon logo are trademarks of Amazon.com, Inc, or its affiliates.