As an Amazon Associate, we earn from qualifying purchases.
I know what you're thinking because I thought it, too. Cook a spiral ham in an air fryer? But why? I mean, it's already cooked for you. Why would you need to do anything but stick in the oven and warm it for a couple of hours?
It won't be less fattening. In fact, we make no promises that the ham will magically be healthier if cooked in an air fryer. It won't. Ham is ham–fattening, delicious, and decadent in all of its magnificent honey-glazed glory.
But…cooking your ham in an air fryer WILL prove to be a huge time saver.

Reheat your spiral ham in the air fryer with ease.
Isn't that one of the main reasons most people only eat ham on the weekends or at holiday meals? Really, ham is a cost-effective way to feed a lot of people. And with the promise of amazing sandwiches the next day, ham rarely goes to waste. But the truth is that most people aren't willing to wait two hours to warm up a ham after a long day at work.
So if you're big on ham but short on time, cooking your spiral ham in an air fryer is the perfect answer to your timing issues. While warming a ham in an oven will take around two hours, cooking your ham in an air fryer takes only 30 minutes, making quick work of hours-long process in the oven.
You may like one of these fine recipes:
Air Fryer Spiral Ham
Keyword:
air fried spiral ham, air fryer spiral ham, spiral ham in the air fryer
Ingredients
Spiral Ham Ingredients (6 oz serving)
1

Spiral Ham (completely thawed)

(pre-cooked)

1

Provided Glaze
Instructions
Spiral Ham Instructions
Preheat your air fryer to 300° F | 149° C

If your ham does not fit in your air fryer, you may cut the ham off of the bone. Add the ham to the air fryer, and air fry for 15 minutes at 300° F | 149° C.

Flip your ham upside down, adding the glaze all-over.

Cook ham for 15 more minutes at 300° F | 149° C.

Using a meat thermometer, verify that your ham is at least 145° F | 63° C. If your ham is not warm enough, add more time.

Serve with mashed potatoes, carrots, or pretty much anything. Enjoy!
Recipe Notes
Note:  As always, use a meat thermometer because as well all know, not all air fryers cook the same.   Ham's should be reheated to 300°F | 149°C.  
Tools and ingredients used in this recipe: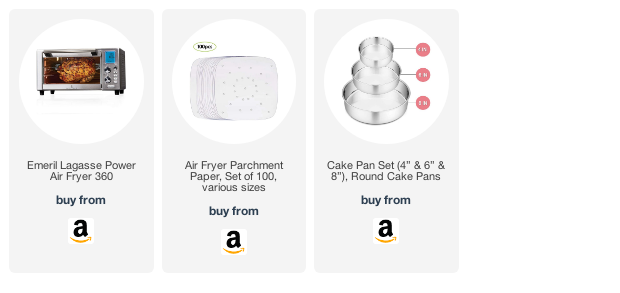 Amazon and the Amazon logo are trademarks of Amazon.com, Inc, or its affiliates.