As an Amazon Associate, we earn from qualifying purchases.
If you've never "baked" a potato in your air fryer, there's no time like the present. In fact, stop what you're doing, pre-heat your air fryer, and bake one right now! All joking aside, trying out an air-fried baked potato will be one of the best decisions you've ever made in the kitchen.
Air Fryer Baked Potato — It's Fast!
One of the drawbacks of baking potatoes in a traditional conventional oven is that, even at high temperatures, it takes at least an hour for a generously sized spud. Thanks to the air fryer's rapid air technology, you will find that cooking potatoes in the air fryer will cook more evenly and save time.
Air Fryer Baked Potato — It's Thorough
In addition to being faster, cooking a baked potato in the air fryer also produced a more even, thorough cook, not to mention a great texture. If you are a fan of potato skins (I'm not, but my husband is), then your air fryer will "bake" the potato skin to the perfect crisp texture. However, the inside won't be overcooked. Instead, the potato will be soft and fluffy, just waiting for a pallet of butter, a sprinkle of cheddar, and a dollop of sour cream.
Try one of these other great air frying recipes:
Air Fryer Baked Potato
If you love baked potatoes, you won't want to miss this recipe for how to cook them in the air fryer.
Keyword:
Air Fried Baked Potato, Air Fryer Baked Potato, Baked Potato in the air fryer
Ingredients
1

tsp

your favorite oil

I used simple vegetable oil for high temp cooking; avocado is also good.

2

large baking potatoes

large
Instructions
Preheat your air fryer to 400 ° F | 205 ° C.

Using a knife, carefully poke holes in each potato for venting.

Rub potato skins with your favorite high-temp oil and salt, if desired.

Cook at 400 ° F | 205 ° C for 30-40 minutes, depending on the size of your potatoes. (I used large potatoes, which required the full 40 minutes.)

Since potatoes vary in size and because of this...cook times, use a meat thermometer to make sure that your potatoes internal temp is above 200 ° F | 93 ° C

Serve with sour cream, or butter, and chives. Plate and enjoy!
Tools and ingredients used for this recipe: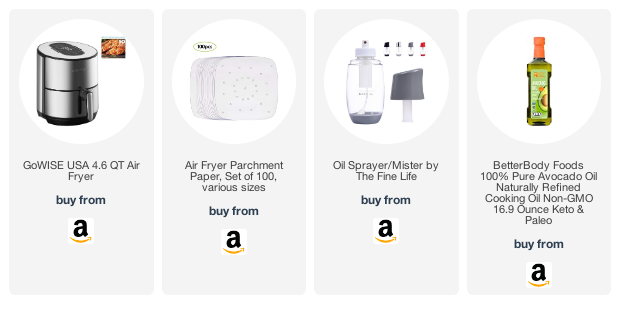 Amazon and the Amazon logo are trademarks of Amazon.com, Inc, or its affiliates.