As an Amazon Associate, we earn from qualifying purchases.
If you're a veggie-lover, then cauliflower cooked in your air fryer will be a sure hit for your taste buds. One bite of the crunchy air fryer cauliflower and your perception of the vegetable will change. I'm not exaggerating here – try it yourself and let us know your verdict.
A Healthy Side Dish or Vegan Entree
An ideal side dish to any protein or the main veggie entree, you'll never go wrong with this simple yet tasty dish. If you're looking for a low-carb appetizer then, you hit a jackpot with this crunchy cauliflower treat! Its health benefits also include strengthening the immune system, reducing blood pressure, preventing bone loss, and helping detox the body. It's healthy and savory. What more can you ask for? And, you can easily make it in a jiffy.
From the usual 30-minute cooking time down to less than 15 minutes, air fryer saves your precious time. Good news! You'll have enough time to prep and cook mouthwatering Air Fryer Beef Ribs for a special family dinner without feeling burn out.
What's amazing with cauliflower is that it tastes exactly as what you throw at it. Coat the cauliflower in olive oil. Add salt and pepper. Put the chunks of cauliflower in the air fryer. Voila! Don't underestimate the simplicity of this dish. You can eat it as is, or top with desired sauce or spice as you please.
Good as Snack
An Air Fryer Cauliflower can be a tasty bite-sized snack too! It can be a healthy alternative for popcorn when watching a movie. Yes, it's true! You got to try it because you're missing so much.
Try one of these great sides:
Air Fryer Cauliflower
Course:
Appetizer, Side Dish, Snack
Keyword:
Air fried cauliflower, Air fryer cauliflower
Ingredients
1

Head Cauliflower

Olive Oil

Salt

Pepper
Instructions
Cut cauliflower into bite-sized chunks.

Coat cauliflower in olive oil.

Add salt and pepper to taste.

Put cauliflower into the air fryer basket.

Cook at 400° F / 205° C for 14 minutes.

Shake/stir every 4 minutes.
Tools and ingredients used for this recipe: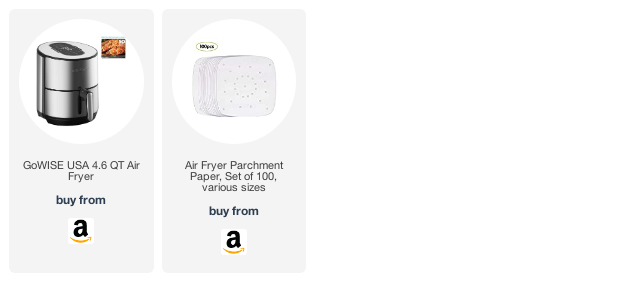 Amazon and the Amazon logo are trademarks of Amazon.com, Inc, or its affiliates.