As an Amazon Associate, we earn from qualifying purchases.
I found these delightful little bites in the frozen food section of my grocery store. My first thought was, 'I like cauliflower.' My second thought was, 'I can air fry that.' But it wasn't until I tasted them that I thought, 'These may be the best air fried frozen food that I have tasted.' They are truly that yummy!
Frozen Battered Cauliflower is a Must-Try
You can't find them in every single grocery store, but I encourage you to check around as these little bites are crazy tasty. Typically I batter my own cauliflower, but we have been on a frozen food kick recently. I ate them with a hamburger that was also prepared in the air fryer, but I know they would be perfect as an appetizer, or side for a grilled cheese sandwich. You can't go wrong, as battered cauliflower bites stand alone. Follow these simple directions below for the perfect tasty treat.
Frozen Battered Cauliflower
Keyword:
Air Fried Frozen Cauliflower, Air Fryer Frozen Cauliflower, Frozen Battered Cauliflower, Frozen Battered Cauliflower in the Air Fryer, Frozen Cauliflower in the air fryer
Ingredients
Battered Cauliflower Ingredients
1

bag

Frozen Battered Cauliflower

(unbattered will air fry the same)
Instructions
Battered Cauliflower Instructions
Preheat your air fryer for 5 minutes at 400° F | 204° C.

Add in a Liner to your air fryer to help with cleanup. There shouldn't be much cleanup, but any little bit helps. (optional)

In a single layer, add your cauliflower to the air fryer basket. The single-layer will help with even cooking.

Air fry at 400° F | 204° C for 15 minutes, shaking the basket every 5 minutes.

Pair with a sandwich, or serve as an appetizer and enjoy!
Try one of these other fabulous air frying appetizers:
Tools used in this recipe: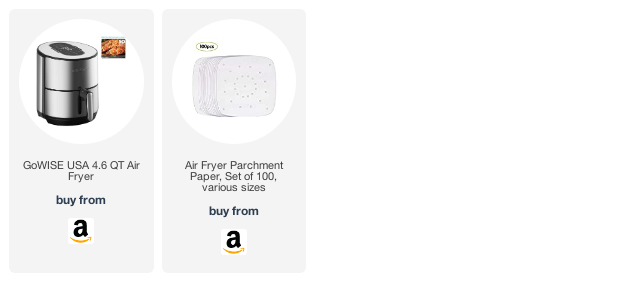 Amazon and the Amazon logo are trademarks of Amazon.com, Inc, or its affiliates.