As an Amazon Associate, we earn from qualifying purchases.
As a kid, I loved fish sticks. Every time the Gorton Fish Stick commercial would come on, I would remind my mom to pick up some…and sometimes she even listened to me.  Not often, but enough.
For a brief time, I was a pescetarian but that didn't last long as I just didn't like the smell of fish in the house. To combat this, I reduced the smell by cooking frozen fish sticks. Fish sticks obviously aren't the highest quality fish, but the fish smell is greatly reduced, especially in the air fryer. For our purposes, fish sticks can be the standard stick o' breaded fish, or a small battered and frozen filet. Because not all fish sticks are the same size, you will need to adjust your air fryer cooking time accordingly.
Frozen Fish Sticks
Keyword:
Air Fried Fish Sticks, Air Fryer Fish Sticks, Fish sticks in the air fryer
Ingredients
1

serving

fish sticks

single layer for better results
Instructions
Prepare/Preheat Air Fryer
Preheat air fryer to 360° F | 176° C

Spray the air fryer basket with oil to prevent sticking.
Air Frying the Fish Sticks
Add a single layer of fish sticks to the oiled basket.
Small Fish Sticks
Air fry for 4 minutes at 360° F | 176° C, flip and air fry for an additional 4 minutes
Larger Fish Sticks
Air fry for 6 minutes at 360° F | 176° C, flip and air fry for an additional 6 minutes
Recipe Notes
NOTE:   Due to size differences, please look at your fish sticks from time to time to verify that they are not overcooking. Use a meat thermometer to make sure that your sticks are cooked to 165° F | 74° C or higher.
Tools and ingredients used in this recipe: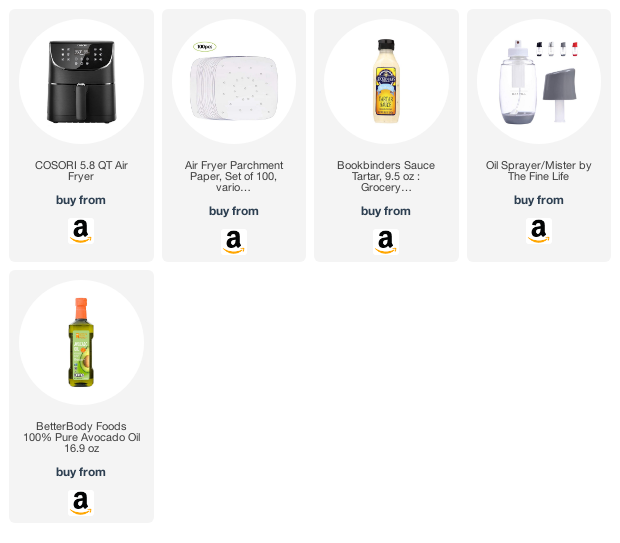 Amazon and the Amazon logo are trademarks of Amazon.com, Inc, or its affiliates.