As an Amazon Associate, we earn from qualifying purchases.
I've always enjoyed ordering potato skins as an appetizer when eating out. Yes, they are tasty but more importantly, I didn't have to make them. Have you ever made potato skins? It's not like you can whip them up in ten minutes.
First you have to bake the potatoes – in an oven, that's an hour right there. If you're adding bacon, you have to cook that. Once the potatoes are cooked, they have to cool for a bit before you can even handle them. After scooping out the insides, you have to bake them again. Then you add cheese and bacon and bake them AGAIN. Sorry, I'm not going to all that trouble at home so I let someone else do the work for me.
Happily that work doesn't have to be done in a restaurant because frozen potato skins are available in the freezer section of most grocery stores.
Frozen Potato Skins in the Air Fryer
Frozen potato skins are perfect in the air fryer. Why? Potato skins are precooked then frozen and an air fryer reheats them faster and cooks more evenly than either a toaster oven or conventional oven. Your air fryer really is the perfect frozen potato skin cooking machine. Visit the recipe below for the best tricks for consistent heating and easier cleanup!  Enjoy the bacon, cheese, and potato goodness.
Try one of these other fabulous air fryer appetizers:
Frozen Potato Skins
Keyword:
air fried frozen potato skins, air fryer frozen potato skins, Frozen potato skins in the air fryer
Servings
:
2
(4 potato Skins)
Ingredients
4

frozen potato skins

2 Servings

additional shredded cheese

(optional)
Instructions
Preheat your air fryer
Preheat your air fryer to 370° F | 187° C

Do NOT add a liner at this time.
Instructions
Once preheated, pull the tray out and add your liner.

Even cooking: Add your four potato skins to the air fryer pan in a single layer.

Cleanup tip: You now decide if you want additional cheese added to your potato skin. You can add this now, but there may be a slight mess, even with your liner. To combat this, you can add your cheese after the active cooking time then let your skins sit in the air fryer for a minute or two while the residual heat melts the cheese.

Air fry for 5 minutes at 370° F | 187° C. Add an additional 1-2 minutes or so if you have exceptionally large frozen potato skins.
Tools and ingredients used in this recipe: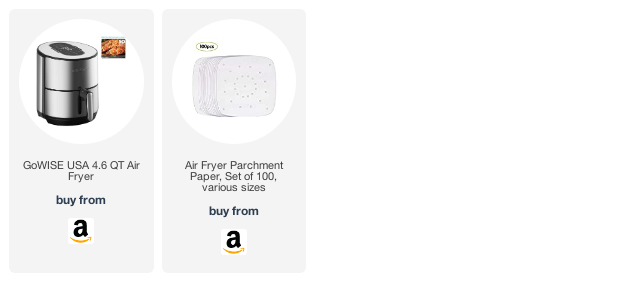 Amazon and the Amazon logo are trademarks of Amazon.com, Inc, or its affiliates.