As an Amazon Associate, we earn from qualifying purchases.
Whether served up for breakfast or alongside a delicious main course, who doesn't love a plump buttermilk biscuit? Whether slathered with jelly, drizzled with elderberry syrup, dripping with honey, coated with gravy, or sandwiching a piece of breakfast sausage, biscuits have been a staple in many American households for centuries. And a faster, more delicious alternative to a conventional oven is making air fryer buttermilk biscuits.
Why Air Fry Buttermilk Biscuits?
First of all, air frying is faster and more efficient than a conventional oven. By the time you preheat the oven to 350, you could already be enjoying a flaky, hot biscuit cooked right in your air fryer. While the cooking instructions on the biscuits I used said to bake at 350 for 12-16 minutes, I cooked them in the air fryer at 340 for only eight minutes with no preheating. That's at least 14 minutes saved.
Secondly, the air fryer creates the perfect texture. In my opinion, the best biscuits offer a slightly crisp top with soft, flaky layers inside. So if you are like me, the air fryer will not disappoint. These biscuits came out piping hot with a lightly browned top and a delicious soft middle that made me want seconds.
Go on. Give them a try. These air fryer buttermilk biscuits will quickly become a breakfast staple in your home.
Air Fryer Buttermilk Biscuits
Save valuable time in the kitchen by trying these delicious air fryer buttermilk biscuits.
Course:
Breakfast, Side Dish
Keyword:
Biscuits in air fryer, Buttermilk Biscuit Air Fryer, Canned Biscuits in Air Fryer
Ingredients
1

can

your favorite buttermilk biscuits

I used Pillsbury Grands
Instructions
Place a parchment liner in the bottom of your air fryer basket, or mist it with oil.

Place the biscuits in your air fryer basket. 

Bake at 340 ° F | 171 ° C for approximately 8 minutes.

One biscuit equals one serving.
Tools and ingredients used in this recipe: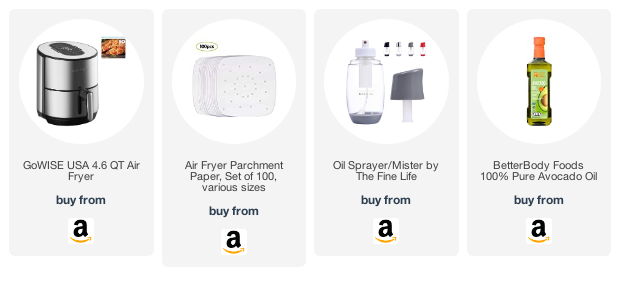 Amazon and the Amazon logo are trademarks of Amazon.com, Inc, or its affiliates.