As an Amazon Associate, we earn from qualifying purchases.
The most famous of all fried foods just became more healthy. Check out this recipe for homemade crispy golden French Fries. This is a quick and simple dish that can easily be made in any standard air fryer. Serves 2.
Homemade fries are the best
Of course, you can bake your fries, but they don't really get crispy enough. And of course, you can put your fries in oil, and fry them the old fashioned way, but why double the calories if you don't have to. Frozen fries are an option, but those are generally pre-cooked in oil before being frozen. Air frying is the best alternative out there for cooking delicious restaurant quality French Fries at home.
And here is even better news.  A five-pound bag of baking potatoes only costs around $3.00. This means you can have delicious French Fries for lunch every day for a week, for the same price as a single cup of coffee.
Note that not all air fryers cook the same when taking into account the capacity of the air fryer and volume of food being cooked. For example, we cooked one large potato's worth of fries in the Cosori Premium 5.8 Quart air fryer. It took 20 minutes for perfectly cooked fries, but that's in a large capacity basket and cooking one layer of fries. If you have a smaller capacity air fryer and/or multiple layers of fries to cook, be prepared to add up to 10 more minutes of cooking time.
Try one of these fabulous air frying recipes:
Homemade Air Fried French Fries
French fries made in the air fryer.
Keyword:
Air Fried French Fries, Air Fryer French Fries, French fries in the air fryer
Ingredients
2

large

potatoes

(I prefer baking potatoes)

1-2

tsp

oil

(light olive oil, avocado, etc.)

salt & pepper

(to taste)
Instructions
Prep
Cut the potatoes into 1/4" to 3/8" slices

For crispier fries, soak the potato slices for an hour. If you are short on time, you can absolutely skip this step although the salt and pepper stick better to the fries when wet.
Cooking
Preheat the air fryer to 380° F | 180° C

Spray the air fryer basket with oil. We prefer to use avocado oil, but peanut oil, canola, or light olive oil works well. Additionally, you can use a parchment liner to prevent the potatoes from sticking.

Add the fries to the basket, keeping them in one layer if possible.

If you soaked your fries prior to cooking, you can add salt and pepper now; if you did not soak, lightly spray the potatoes to give the salt and pepper something to stick to.

Cook for 10 minutes, shake the basket, and cook for an additional 10 minutes.
Tools and ingredients used in this recipe: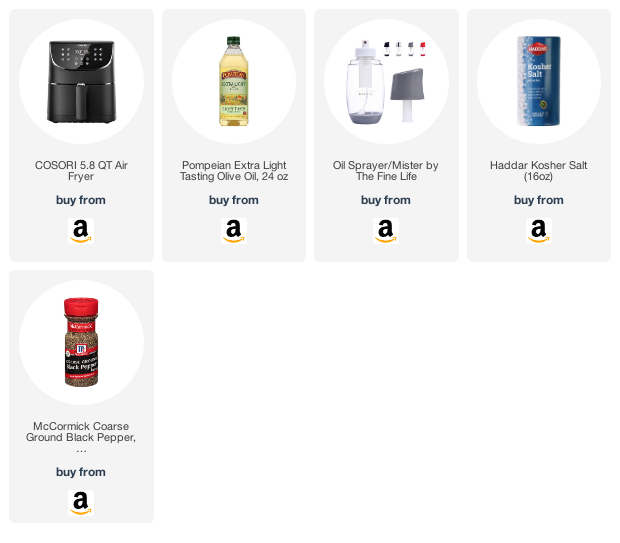 Amazon and the Amazon logo are trademarks of Amazon.com, Inc, or its affiliates.