As an Amazon Associate, we earn from qualifying purchases.
Who doesn't love waffle fries? For whatever reason, we gravitate toward fries cut into various shapes that defy the normal French cut. And if you fall into this category, then you'd be crazy not to air fryer frozen waffle fries in your air fryer.
When compared to baking, preparing these waffle fries in the air fryer is faster, and the taste and texture is simply better. In fact, two of my favorite foods in life are waffle fries and sweet potato fries, so when I found frozen sweet potato waffle fries, I knew I was destined to air fry these delicious morsels and serve them alongside a juicy air fryer cheeseburger.
The result was ahhhhhhh-mazing!
With the crisp texture provided by the rapid air technology of the air fryer, I enjoyed every last crumb of these fries without feeling the guilt I would normally feel while eating deep-fried waffle fries. Better still, I saved a few minutes because I didn't have to pre-heat the oven, and I didn't have to settle for the uneven, half-soggy result often produced by cooking fries in the oven.
Here's a pro-tip: just like when air frying tater tots, the trick to a perfect air fried potato product is your capacity to food ratio. With waffle fries, you can cook multiple layers but know your perfect cooking time for a full bag will be different than that for a half of a bag or a single serving. The fewer fries in the basket, the less cooking time you'll need. Since waffle fries have a lot of surface, they can cook pretty quickly so check and shake them often for best results.
Frozen Waffle Fries in Air Fryer
Keyword:
Air Fried Waffle Fries, Air Fryer Waffle Fries, Waffle Fries in the air fryer
Ingredients
Ingredients (3oz per serving)
1

bag

Your favorite brand waffle fries

I used sweet potato waffle fries.

1

tsp.

Avocado oil
Instructions
Mist the basket of your air fryer with a few spritzes of avocado oil.

Add the bag of fries to the basket. If you prefer crispier fries, mist the tops of the fries with additional oil.

Cook at 400°F | 205°C for 10 minutes or until desired crispiness is achieved. Shake basket halfway through for even cooking and to check progress. You may need to adjust your cooking time down if you have fewer fries in your basket. Or add time if the fries are not crispy enough for your satisfaction.
Tools and ingredients used in this recipe: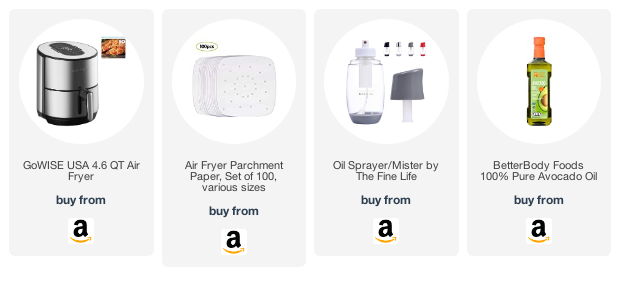 Amazon and the Amazon logo are trademarks of Amazon.com, Inc, or its affiliates.