As an Amazon Associate, we earn from qualifying purchases.
Every now and then I check out the frozen food section at my local grocery store to see if they have anything that I have not yet tried to air fry. On one recent trip, I discovered frozen tamales so I bought them to try preparing them in an air fryer.
I must confess, I haven't had a tamale since I was a kid, and didn't know that you weren't supposed to eat the corn husk. I recall sitting in my elementary school cafeteria, trying to figure out what the lunch lady threw on my tray. To be honest, I had never seen a tamale or even heard of such a thing. I had never been introduced to Mexican food….ever.
Fast forward (more than quite a few years) and now I have some major exposure to Mexican food and I have learned the best way to eat a tamale (https://www.wikihow.com/Eat-Tamales). But I digress.
CedarLane's Roasted Vegetable Tamales are actually pretty good. They contain bell peppers, zucchini, carrots, potato, hot peppers, mushrooms, and tomatoes and are gluten free. Look for them in your grocery's frozen food section the next time you're walking through and try preparing frozen tamales in your air fryer.
Air Fryer Tamales
Keyword:
Air Fried Frozen Tamale, Air Fryer Frozen Tamale, Frozen Tamale in the air fryer
Ingredients
2

frozen tamales

1

spritz

light olive oil
Instructions
Lightly spritz oil onto the tamales (keeps them from drying out)

Air Fry the tamales for 22-24 minutes at 325 degrees, flipping over half way through cooking
Try one of these frozen food air fryer recipes:
Tools used in this recipe: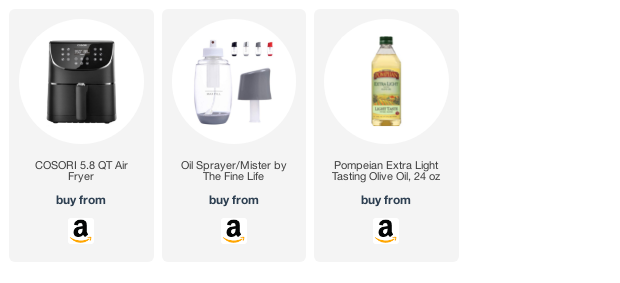 Amazon and the Amazon logo are trademarks of Amazon.com, Inc, or its affiliates.