As an Amazon Associate, we earn from qualifying purchases.
Every weekend, we make breakfast potatoes, sometimes we slice, sometimes we cube, but we always use our air fryer.  Cleanup is a snap, and the taste is off the charts.
So why the air fryer?
We used to have one of those great griddles on our stove and used it quite often, but neither of us liked the cleanup.   It required scraping and a lot more cleanup elbow grease than I really wanted to put into cleaning up after breakfast.   The results were spectacular, but the clean up for the griddle was underwhelming.    We ended up throwing our home fries in a frying pan with oil and cooked them that way…which worked perfectly until the frying pans non-stick surface wore out.  The result was having to scrape the bottom of the frying pan with a spatula to clean the pan.  To counteract the sticking, we started using oil…way too much oil.
We started cooking our breakfast potatoes in the air fryer.   The result was crispier home fries, in a fraction of the time of either the wok or the griddle.   On top of that, clean-up is a snap in the air fryer.   No sticking, no dirty pan, no scraping.   Just soap and water.   I love my air fryer.
Air Fryer Homefries /Breakfast Potatoes
Keyword:
Air Fried Breakfast Potatoes, Air Fryer Breakfast Potatoes, Breakfast Potatoes in air fryer
Ingredients
Home Fry/Breakfast Potato Ingredients
2-3

large

potatoes

can also use 1/2 bag of frozen diced potatoes to save time

1

onion, diced

1

red pepper, diced

1

tsp.

garlic powder

1/2

tsp.

paprika

1

tsp.

salt

1

Tbsp. or spritz

Your favorite high-temperature oil

we prefer avocado oil
Instructions
Home Fry/Breakfast Potato Instructions
Preheat your air fryer at 390° F | 199° C for 5 minutes.

In a large bowl, mix together all ingredients. (If you use an oil mister, simply mist the mixture until you achieve the desired amount of oil.) Without additional oil, your potatoes will stick together.

Add a liner to your air fryer. Alternatively, you can spritz the bottom of the air fryer basket to prevent sticking.

Place potatoes in the basket of your air fryer. Your cooking time will vary by the volume of potatoes you place in your air fryer at once.

Cook at 390° F | 199° C for 15-20 minutes, shaking often. Set your time for 15 minutes, using a fork(put that potato in your mouth), check to see if your potatoes are done. If not, add 5 minutes.
Recipe Notes
We typically tell our readers to layer foods in a single layer for even results,  this is very difficult with breakfast potatoes as single layers, in this case, make the process not worth it.  Feel to free to stack them an inch or two, but know it may take the entire 20 minutes to cook.
Tools and ingredients used in this recipe: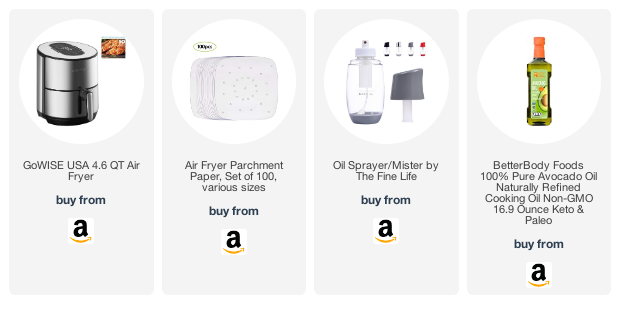 Amazon and the Amazon logo are trademarks of Amazon.com, Inc, or its affiliates.