As an Amazon Associate, we earn from qualifying purchases.
It's Friday night. You're done with work, the kids are hungry, and you've all survived the work/school week and the challenges it brought. Reward yourself by preparing a fast, easy, and delicious meal for your family in half the time it would take to order, prep, and deliver from your local Dominoes. You won't be sorry you've learned how to cook frozen pizza in the air fryer.
Why Air Fry Frozen Pizza?
Time and simplicity.
All you have to do is open up the freezer, remove the packaging, place the pizza in your air fryer, and set the timer. In a few minutes, you'll have a delicious pizza that will satisfy your family and reduce cook and clean-up time. Plus, it is more time and cost-effective than ordering a pizza over the phone or online. By the time you've ordered your carryout pizza, given your credit card information, and waited the standard 15 minutes it takes for your delivery pie to cook much less be delivered to your house, you could already be indulging in your favorite frozen brand. Thank you, air fryer. Also for another pizza snack, see how to cook the best frozen pizza rolls ever!
Note: Depending on the size of your pizza and the size of your air fryer basket, your cooking time and temp may need to be adjusted. For example, mini pizzas will take less time to cook at 400 degrees F than a larger pizza that takes up most of the basket. As with most air frying recipes, your specific food-to-basket ratio needs to be taken into account when air frying. If your manufacturer provides a specific temp and time for air frying frozen pizzas, follow that. If not, use what we suggest below as a guideline and check your pizza frequently.
Frozen Pizza in Airfryer
Keyword:
Air Fried Frozen Pizza, Air Fryer Frozen Pizza, Frozen Pizza in Air Fryer
Ingredients
Your favorite brand of frozen pizza

Spritz of your favorite oil or parchment liner

Parmesan cheese and dried basil for topping

Optional
Instructions
Preheat air fryer to 400 degrees (takes about 5 minutes).

Spray oil on air fryer safe pizza pan or put parchment liner in the basket (AFTER the preheat) then place the pizza in/on it.

Air fry for 10-15 minutes. Your cook time will greatly depend on the thickness of your pie. A deep dish or supreme frozen pizza will take more time, than a single topping thin crust. At 7 minutes, take a peek at your pie and make a judgment call on how much time to add.
Try one of these other air fryer recipes:
Tools and ingredients used for this recipe: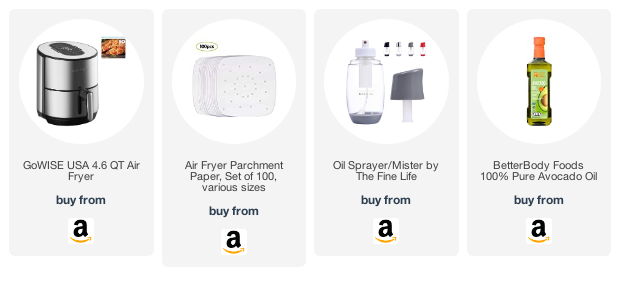 Amazon and the Amazon logo are trademarks of Amazon.com, Inc, or its affiliates.