As an Amazon Associate, we earn from qualifying purchases.
Recently, I wondered if we could cook SPAM in the air fryer (yes, the meat in the can). It's not a regular staple in my diet, but I like it and it does get a bad rap. When I thought about it, of course, you can cook spam in an air fryer. Air fryers are good for anything but soup and cereal.
SPAM is WAY more versatile than you think
SPAM is pretty easy, it is basically just a tiny canned ham. And to be fair, you can really do a lot of things with SPAM, a lot more than you think. For example, the SPAM website lists possible sandwich combinations including SPAM breakfast sandwiches, SPAM grilled cheese sandwiches, SPAM bagel sandwiches, SPAM and cheese sandwiches – the list goes on. And that is just the sandwich section!
You can use SPAM for everything from casseroles, sushi, stews, even have SPAM and eggs (they can even be green eggs if you're so inclined).  The SPAM website even has recipes for bibimbap bowls, tacos, kebabs, SPAM fries, SPAM pulled pork and more. I was very impressed – what I knew about ways to prepare/eat/use SPAM was minimal until I visited their website.
But alas, you only want to know how long to air fry SPAM, right?
For starters I like to rinse off the gel that the SPAM is packed it. It is used as a preservative so it's important that it was there in the can, but I don't want to eat it so I washed my SPAM. (Yes, I just wrote those words.) Then it's as simple as slicing and air frying. Check out the recipe card below for all the details.
Air Fried SPAM
Keyword:
Air Fried SPAM, Air Fryer SPAM, SPAM in the air fryer
Instructions
Preheat Air Fryer
Preheat air fryer to 400° F | 204° C for 5 minutes.
Prepare Spam
Wash the packing gel off the SPAM, and dry with a paper towel.

Slice the SPAM into 6 slices

Once the Air Fryer is up to temperature. Lay the SPAM slices in your air fryer, trying not to stack them if possible.

Air Fry at 400° F | 204° C for 10-12 minutes depending on how browned you prefer your food, flip each piece at the 5-6 minute mark.
Recipe Notes
Cubes probably take less time than slices.   Also, you can probably cook the entire block of SPAM, but please use a kitchen thermometer to make sure your SPAM is at least 160° F | 71° C.
If you liked SPAM, look what else an Air Fryer can do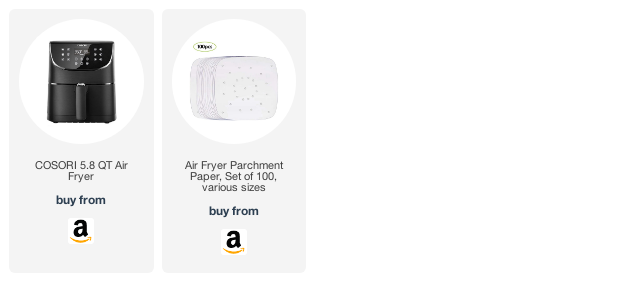 Amazon and the Amazon logo are trademarks of Amazon.com, Inc, or its affiliates.