As an Amazon Associate, we earn from qualifying purchases.
Thai Larb is a wonderful dish from Thailand that utilizes a great blend of ground beef, vegetables, and spices for a refreshing dish. This is the companion write-up to the video demonstration below made by Chef Ming Tsai using a T-fal Actifry air fryer. Serves four.
We were introduced to this recipe before we visited Thailand, once there, I went out of my way to find some authentic Thai Larb.   It is indeed delicious as it is colorful, tasty.  The Sambal sauce is what gives Larb its amazing flavor with its chilis, shallots, garlic, and ginger flavors.   I would definitely give this dish a try if I were you because Larb is super simple, super tasty, with common ingredients that are found in a grocery store.
Try one of these other air frying recipes:
Thai Larb
Keyword:
Air Fried Thai Larb, Air Fryer Thai Larb, Thai Larb in the air fryer
Ingredients
Thai Larb Ingredients
1

lb

lean ground beef or ground turkey

1

tbsp

olive oil

2

tbsp

lime juice

1

tsp

fish sauce or soy sauce

1

tbsp

sambal sauce

2

cloves

garlic minced

1

tsp

fresh ginger minced

1

small

jalapeno pepper

1

small

red onion

1/2

cup

carrots shredded

1

cup

cabbage shredded

1/4

cup

red bell pepper

1/4

cup

yellow bell pepper
Instructions
Thai Larb Instructions
Preheat air fryer to 350° F | 176° C for 5 minutes.

Add in the olive oil first, followed by the vegetables, the sauces, and lime juice to the air fryer.

Loosely break up the ground beef and spread over top of the other ingredients.

Air fry at 350° F | 176° C for 20 minutes, stirring every 5 minutes or so, making sure to break up the ground beef as it cooks.

Serve over rice, and enjoy!
Recipe Notes
This recipe was created using the T-fal air fryer, which has an agitator like a washing machine for stirring dishes.  if you have a normal air fryer, you will need to manually stir.
Tools and ingredients used in this recipe: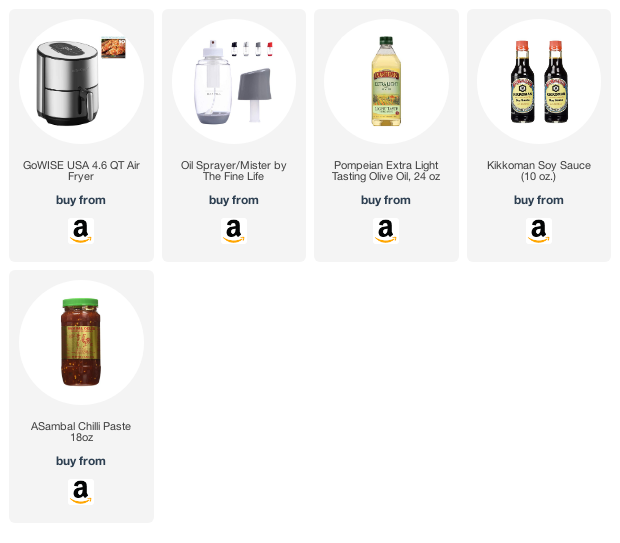 Chef Ming Tsai shows how to Air Fry "Larb" (Video)
Amazon and the Amazon logo are trademarks of Amazon.com, Inc, or its affiliates.