As an Amazon Associate, we earn from qualifying purchases.
Frozen egg rolls are one of my favorite snacks, and are especially delicious when prepared in an air fryer.
Egg rolls, the perfect quick and easy air fryer food
Where I grew up there was just one Chinese restaurant in town and every now and then my parents would order take out. And although I was not a picky eater, it didn't take long for me to take a hard pass on everything that was NOT an egg roll. To this day, I always order extra egg rolls when I find them on a restaurant's menu. Why? Because they are egg rolls and egg rolls are amazing.
As I entered adulthood, I found that I could purchase egg rolls at the grocery store, but there was one problem. It was truly difficult to get the texture correct. Egg rolls were meant to be deep-fried, but since I didn't have a deep fryer, I tried the microwave. Unfortunately, those were mushy and had no crispiness. The oven cooked them poorly as well and I even tried to pan fry them, but that was awful, too. But when I got an air fryer and prepared them there, I finally got them perfect.
If you're feeling extra and want to try your hand at making your own egg rolls, try our recipe for Homemade Air Fryer Vegetarian Egg Rolls.
Try one of these frozen food air fryer recipes:
Exceptional Egg Rolls
Frozen Egg Rolls in the air fryer
Keyword:
Air Fried Egg Roll, Air Fryer Egg Roll, Egg Roll in the air fryer
Ingredients
Frozen Egg Roll Ingredients
2

Egg Rolls

(157 calories each)
Instructions
Frozen Egg Roll Instructions
Preheat your air fryer to 390° F | 199° C for 5 minutes.

Add eggrolls to the air fryer. Try placing the egg rolls in a single layer, they will cook more evenly this way.

Air fry for 6 minutes at 390° F | 199° C, shake the air fryer pan

Air fry for an additional 6 minutes at 390° F | 199° C. Note: If you prefer an even crispier eggroll air fry an additional 2 minutes, or let them rest in the pan for a few minutes. That will crisp them up also.

Serve with spicy Asian mustard, duck sauce, or sweet Thai chili sauce.
Recipe Notes
Note:  Not all air fryers cook the same so when nearing the end of your cook time, take a peek at your egg rolls so as to not overcook them. 
Tools and ingredients used in this recipe: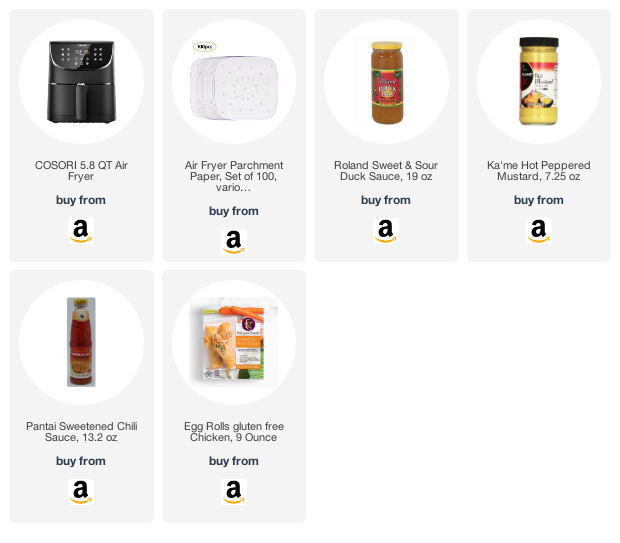 Amazon and the Amazon logo are trademarks of Amazon.com, Inc, or its affiliates.