As an Amazon Associate, we earn from qualifying purchases.
If you love Chinese food, a crisp, flavorful egg roll is the perfect appetizer or side dish to your meal. Typically deep-fried or pan-fried, these tasty veggie-filled wraps take a nice long soak in hot oil, which depletes the nutritional value of the cabbage, carrots, and mushrooms inside.
However, by using an air fryer, you can cook these delicious vegetarian egg rolls in only minutes.
This recipe calls for only two mists of cooking spray, which reduces the use of unhealthy oils and the consumption of unnecessary fats. Thanks to the rapid air technology of an air fryer, you can enjoy a perfectly cooked vegetarian egg roll with none of the guilt.
Serve as an appetizer for guests or in addition to your favorite Chinese dishes, like our General Wong's Beef & Broccoli, for a tasty treat or quick, healthy meal.
And if you want to add meat, simply include ground pork, chicken, beef, or shrimp to the pre-cooked mixture.
Try one of these other air frying recipes:
Homemade Vegetarian Air Fryer Egg Rolls
Handmade Vegetarian Air Fryer Egg Rolls
Handmade vegetarian egg rolls prepared in an air fryer
Course:
Appetizer, Main Course, Side Dish
Keyword:
Homemade Air Fried Egg Rolls, Homemade Air Fryer Egg Rolls, Non-Frozen Egg Rolls, vegetable
Ingredients
Ingredients
1

tbsp 

cornstarch

1/4

cup

cold water

1

package

coleslaw mix

(OR 3 cups shredded cabbage and 1 large carrot, shredded)

3-4

whole

mushrooms, diced

(I used regular, but shiitake are great, too)

3

cloves

garlic, minced

1

tbsp

vegetable oil

1

tbsp 

soy sauce

1

tsp.

sesame oil

1/4

tsp

sugar

salt to taste

1

package

egg roll wrappers

(located in the produce dept. at most grocery stores)
Instructions
Instructions
In a small bowl, whisk together the cold water and cornstarch. Set aside.

In a large non-stick skillet or wok, heat the vegetable oil and add cabbage, carrots, mushrooms, and garlic. Saute until tender.

Add the sesame oil, soy sauce, sugar, and salt. Saute another 2-3 minutes until the filling is well mixed. Drain and place mixture into a large bowl.

On a flat clean surface, turn the egg roll wrapper in a diamond shape, spooning 3 tablespoons of the filling into the center of the wrapper.

Fold tightly until your wrapper looks like an open envelope. Seal edges with cornstarch mixture from the first step. Continue rolling tightly and seal again with the cornstarch mixture.

Repeat with additional wrappers until filling is gone.

Spray the basket of your air fryer with oil. In a single layer, place egg rolls in the basket. Spray the tops of the egg rolls with oil.

Cook at 390° F / 199° C for 8 minutes.
Watch this quick video on how to assemble homemade egg rolls to cook in your air fryer
Tools and ingredients used in this recipe: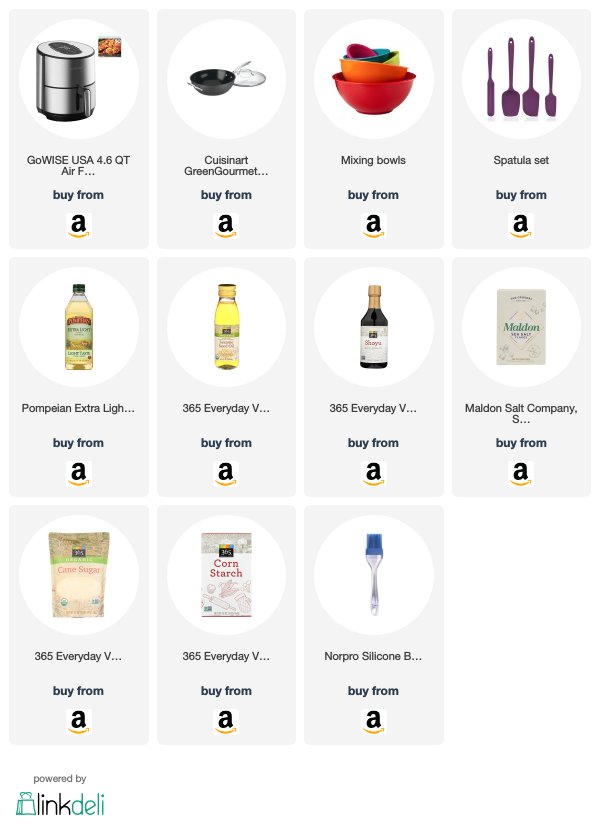 Amazon and the Amazon logo are trademarks of Amazon.com, Inc, or its affiliates.