As an Amazon Associate, we earn from qualifying purchases.
The wonderful thing about stir-frys is that they are so flexible. Throw any combination of meat and vegetables into your air fryer, add a bit of Asian sauce for flavor, cook for 15 minutes, and serve over rice — and you're done! Following is one of my favorite stirfry variants. I call it Bangkok Chicken Stirfry because of the copious amounts of oyster sauce I use, which is a staple in Thai cooking. Serves four.
Although I would normally make this in a Wok, it can be cooked in an air fryer fairly easily.  Don't be discouraged, you can cook almost anything in your air fryer.   You really can't mess this one up, give Bangkok Chicken Stirfry a chance in the air fryer.
Bangkok Chicken Stirfry
Keyword:
air fried stirfry, air fryer stirfry, Stirfry in the air fryer
Ingredients
Bangkok Chicken Stirfry Ingredients
1

lb

boneless skinless chicken

light or dark meat by preference.

1/4

cup

all-purpose flour

2

cloves

minced garlic

1

medium

red onion

1/2

cup

snow peas

whole in pod

1

cup

white mushrooms

2

cups

broccoli florets

cut small enough to fit in an air fryer

1/2

cup

chicken broth

1/4

cup

honey or agave

1/4

cup

oyster sauce

2

tbsp

fish sauce

1

tbsp

ginger

minced, or finely chopped

1

tbsp

olive oil
Instructions
Bangkok Chicken Stirfry Instructions
Slice the chicken into smallish bite-sized pieces.

In a medium-sized bowl, coat chicken thoroughly in flour, and set the chicken aside.

With the remaining flour, add in the honey, oyster sauce, fish sauce, chicken broth, and olive oil, and mix thoroughly. If the mixture is too pasty, add additional broth.

Preheat the air fryer to 360° F | 176° C for 5 minutes.

In a lightly oiled cake pan, add the vegetables, chicken, garlic, and ginger. Pour the sauce over the top.

Air fry at 360° F | 176° C for 15 minutes, stirring every 5 minutes. With a meat thermometer make sure that the chicken has heated to at least 165° F | 74° C. Add additional time if necessary.

Serve with rice, and enjoy!
Try one of these excellent air fryer recipes:
Tools and ingredients used for this recipe: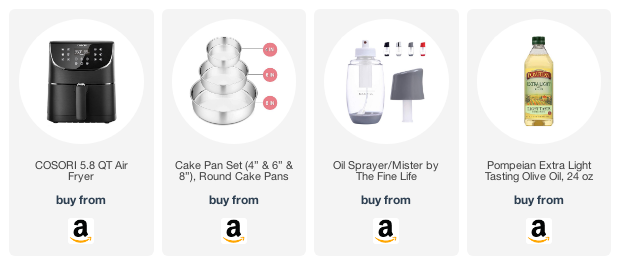 Amazon and the Amazon logo are trademarks of Amazon.com, Inc, or its affiliates.