As an Amazon Associate, we earn from qualifying purchases.
I'll be honest. I didn't used to like Brussels sprouts. I wasn't a fan of their texture or taste, and given the choice, I'd rather just eat some steamed cabbage. But then I discovered air fryer Brussels sprouts. That's when I realized it wasn't the sprouts themselves; it was the cooking method and seasonings I had gotten all wrong.
When flavored with balsamic vinegar and a bit of honey for added sweetness, these air fryer Brussels sprouts are a delicious way to get your daily allotment of veggies without adding a ton of unhealthy fats and unnatural sugars. Perfect for meal planning or cooking as a quick side dish, these Brussels sprouts are packed with health benefits. Loaded with Vitamins B-12, C, and K and rich in nutrients like folate, potassium, and Omega 3s, adding Brussels sprouts to your dinner rotation will make for healthier, cleaner eating.
These veggies are pair perfectly with your favorite protein. Try them with our bacon-wrapped filets, Cornish game hens, or cumin-infused chicken thighs.
Try another one of these great sides:
Air Fryer Brussels Sprouts
Easily make delicious Brussels sprouts in your air fryer
Keyword:
air fried brussels sprouts, Air Fryer Brussels Sprouts, Brussels Sprouts in Air Fryer
Ingredients
1

pound

brussels sprouts

2-3

tbsp

extra light olive oil

salt and pepper

to taste

1

tbsp

balsamic vinegar

(optional)

1

tbsp

honey

(maple syrup or agave can be used) optional
Instructions
Wash brussels sprouts and cut into halves or quarters.

Toss sprouts with olive oil, add salt and pepper.

Add parchment liner to air fryer basket then add sprouts.

Cook at 360°F | 183°C for 10 minutes, shaking once halfway through.

If you prefer crispier Brussels sprouts, bump up the temp to 400°F | 205°C for an additional minute or two. Keep a watchful eye to prevent overcooking.

Mix together balsamic vinegar and honey, then add to sprouts and toss. (optional)
Tools and ingredients used in this recipe: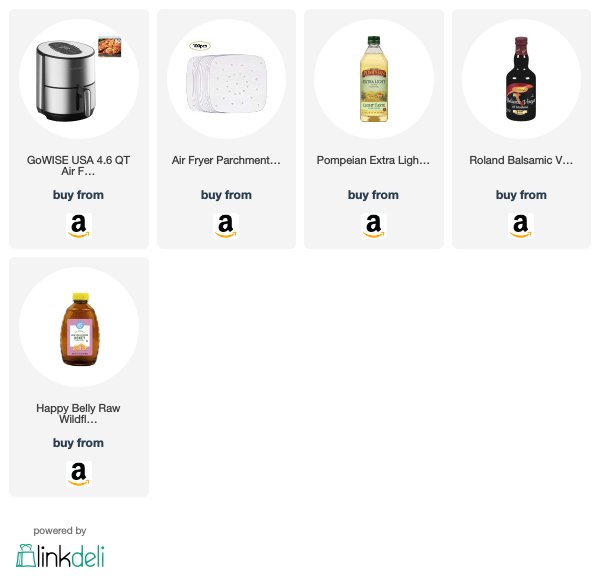 Amazon and the Amazon logo are trademarks of Amazon.com, Inc, or its affiliates.