As an Amazon Associate, we earn from qualifying purchases.
Indulge in a restaurant-quality meal right in the comfort of your own home with these delicious bacon-wrapped filets prepared in your air fryer. Perfect for date night, entertaining guests, or celebrating a special occasion, these savory cuts of beef are easy to prepare and cost only a fraction of what most restaurants charge.
Simply brush both sides with olive oil, sprinkle with your favorite steak seasoning, and cook in your air fryer for a hearty meal that can be dressed up or down for any occasion. Add china, candles, and table linens for a romantic dinner for two or pair with shrimp, scallops, or lobster tail for a summer surf n' turf night that can be enjoyed in T-shirts and flip flops.
In just under ten minutes, you can serve your guests the perfect medium-rare filet that will tempt them to kiss the cook!
But what if we want our filet mignon rare, or medium?
Using a food thermometer, stick the thermometer from the side of the cut.   When the internal temp gets to 5 to 10 degrees below what preparation you want, turn off the air fryer and let the Filet rest for 5 minutes.   The Filet will continue to cook bringing up the internal temp to the desired cooking level.
| Preparedness | The center should be: | Internal Temperature |
| --- | --- | --- |
| Rare | Coolish red center | 125° F | 52° C |
| Medium Rare | Warmish red center | 135° F | 57° C |
| Medium | Warmish pink center | 145° F | 63° C |
| Medium Well | Slightly pink center | 150° F | 66° C |
| Well Done | No pink or very little | 160° F | 171° C |
Additional dinner options:
Air Fried Filet Mignon
The air fryer perfectly prepares filet mignon
Keyword:
Air fried filet mignon, Air Fryer Filet Mignon, Filet Mignon in the air fryer
Ingredients
Filet Mignon Ingredients
2

cuts

filet mignon

2

pieces

bacon

steak seasoning

(optional)

2

wooden toothpicks
Instructions
Filet Mignon Instructions
Wrap one slice of bacon around the sides of one filet until the bacon ends overlap. Secure with a toothpick by inserting it into filet (leaving the end sticking out for easy removal). Repeat for the second filet.

Brush each side of the filets with light olive oil.

Sprinkle steak seasoning onto each side of filets (if desired).

Place the filets into the air fryer and cook for 4 1/2 minutes at 390°F | 199°C.

Air Fry for an additional 4 1/2 minutes at 390°F | 199°C.

Remove the filets from the air fryer, let rest for 5 minutes to bring the internal temperature up to the desired level. Remove the toothpicks from the filets.
Recipe Notes
If you are cooking for one person that prefers rare, and one person that prefers their filet medium-well.   Practice with the thermometer, so you can hone in on the perfect time for your next filet.
Watch our quick video: Cooking bacon-wrapped filets in an air fryer
Tools and ingredients used in this recipe: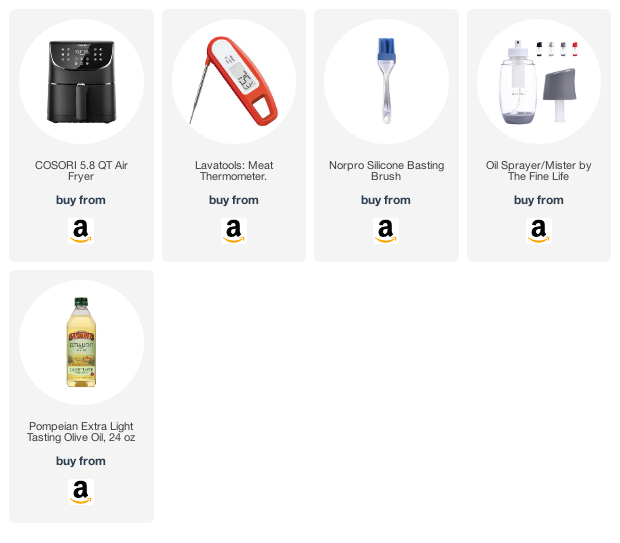 Amazon and the Amazon logo are trademarks of Amazon.com, Inc, or its affiliates.