As an Amazon Associate, we earn from qualifying purchases.
If you're looking for some great holiday desserts to prepare for upcoming celebrations, look no further than this compilation of our favorite desserts in the air fryer, brought to you by airfrying.net.
While you won't produce as much volume in the air fryer, your handy dandy countertop appliance is perfect for small batches, taking care of extra servings when used in combination with your oven, and for saving time. So check out our favorite dessert recipes that can be prepared quickly and efficiently in your air fryer.
Time and Temperature for Desserts in the Air Fryer
It is important to remember that it might take some experimentation when "baking" dessert items in the air fryer. For desserts like berry eggrolls, which you can find in our cookbook, you can typically use higher temperatures. However, for traditional baked goods like cookies and cakes, you will need to cook at a lower temperature, usually 325, for about the same amount of cook time. OR you will need to cook at the same temperature for about half the time it would take to bake in the oven.
Temperature and time will also depend upon the brand and size of your air fryer. So if you want to master baked goods in the air fryer, which can save you lots of time, be prepared to play around with the times and temperatures.
Holiday Desserts in the Air Fryer
These candies are not only delicious, but they are also colorful and festive. Made of three of your favorite sweet-and-salty snack items, these candies are sure to be a crowd-pleaser. Plus, they are super easy, and your air fryer will help you get the job done faster.
These brownies are my favorite dessert to prepare in the air fryer. I will say that you can make a larger volume of brownies in a conventional oven, but I bake an extra batch or two in the air fryer to save time while the rest cook in the oven. When baking brownies or cake in the air fryer, beware of your air fryer temperature. If your temperature is too hot, the brownies will burn on top and remain raw in the middle. There might be a learning curve at first, but after a few tries, I was able to achieve expert status!
Serve up these decadent dumplings with vanilla ice cream and a sprinkle of cinnamon. This dessert is like a mini personal pie for your guests and provides the perfect final course for a delicious holiday meal. Trust us when we say that this dessert will not disappoint.
Who doesn't love a delicious cinnamon-sugar doughnut served warm with your morning cup of coffee? While you can make your own doughnut dough from scratch, I like to save time by using biscuit dough, which makes for a scrumptious treat the whole family will love. If Cinnamon & Sugar isn't your thing, try using a sugary glaze, chocolate icing, or powdered sugar.
While this links to a Halloween cookie recipe, this can be easily adapted for Christmas. Whether using your own sugar cookie recipe or purchasing store-bought pre-made varieties, these tasty morsels won't disappoint. Again, I use my air fryer when doing heavy baking. While the majority of my cookies bake in the oven, I use the air fryer to make extra batches, which is a huge time saver at our house.
It is important to note that with cookies, the temperature is going to be everything. "Bake" at 350 for crispier cookies, but if you're like me, and you prefer a softer sugar cookie, you'll find more success when you set the temp to 325.
Happy Holidays From Airfrying.Net!
With several recipes for main courses, sides, and desserts perfect for the holidays, we hope we have reduced some stress and made life easier in your home so that you can enjoy the most wonderful time of the year with your friends and family. So, from our home to yours, Happy Holidays and warmest wishes for a great new year!
Try these great air fryer accessories: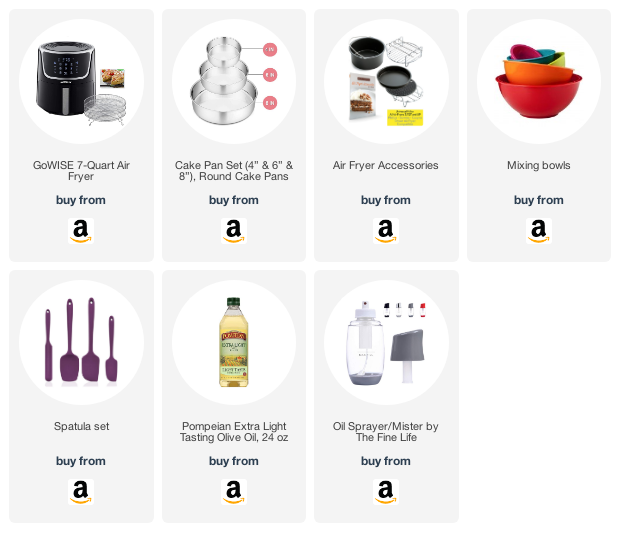 Amazon and the Amazon logo are trademarks of Amazon.com, Inc, or its affiliates.