As an Amazon Associate, we earn from qualifying purchases.
The holiday season is known for being the most wonderful time of the year, as the classic carol goes, but it can also be one of the most hectic and stressful times of the year, as well. We're all out Christmas shopping, wrapping gifts, decorating, making all kinds of delightful goodies, and planning holiday menus. And whether you're cooking Christmas dinner for two or twelve, airfrying.net is here to help you make the best use of your time with some ideas for amazing holiday meals in the air fryer.
Holiday Entrees in the Air Fryer
Whether you use this marinade on boneless pork chops, pork roast, pork tenderloin, or pork loin, it's sweet, citrus flavor makes it a holiday favorite. Cooked to perfection in your air fryer, these moist pork chops make a great holiday meal. Garnish with cranberries and serve with a crisp Reisling for a meal your guests will rave about for years to come.
If you find yourself cooking for only two to four guests, these bacon-wrapped filets are to die for. Sprinkle with your favorite steak seasoning or top with butter for a savory holiday meal that will leave your guests full and happy. Pair with a rich Cab Sav and garnish with fresh rosemary sprigs.
Depending on the size of your air fryer and ham, you may have to trim the ham a bit to fit in your air fryer. However, you won't be sorry you chose to heat this ham in the air fryer. Crisp on the outside and deliciously moist on the inside, cook enough for a whole party in minutes, rather than hours, using our air fryer cooking instructions. Pair with a sweet white wine like Moscato or Reisling and garnish with fresh cranberries.
This dish is great for small parties or couples. Simply throw a couple of these delicious Cornish Hens in your air fryer and rub with your favorite seasoning. It's perfect for poultry lovers looking for something unique to serve at their next holiday meal.
There's a reason this is one of our most popular recipes. When you cook a whole chicken in your air fryer, you'll never be tempted to bake one again. When rubbed with a bit of your favorite oil and topped with your favorite seasoning, the air fryer will ensure that this chicken is crisp on the outside and super moist and juicy on the inside. You can feed your entire family with this meal!
While guests have often had enough of turkey after Thanksgiving, a turkey breast is still a wonderful option for Christmas dinner. It can stand alone as a main course or provide a second option when cooking pork or beef. Like the whole chicken, the air fryer locks in moisture, finishing with a crisp on the outside, juicy on the inside main course your guests will love.
Holiday Sides in the Air Fryer
If you're looking for a colorful holiday side, these multi-colored potatoes are a perfect choice. Tossed with olive oil and sprinkled with your favorite seasoning, these potatoes make the perfect accompaniment to any meat. For Christmas preparation, I recommend olive oil, salt, pepper, rosemary, and Parmesan seasoning.
These delicious green beans will add a pop of beautiful bright color to the plate. The garlic and sage seasoning is the perfect choice for ham, beef, or poultry, and your guests will rave about this unique green beans recipe.
Not everyone is a fan of the humble Brussels Sprout, but when tossed in a honey-balsamic marinade, even the pickiest eaters will gobble down these tiny cabbage-like veggies.
Holiday Desserts in the Air Fryer
Use these accessories for your favorite air frying meals: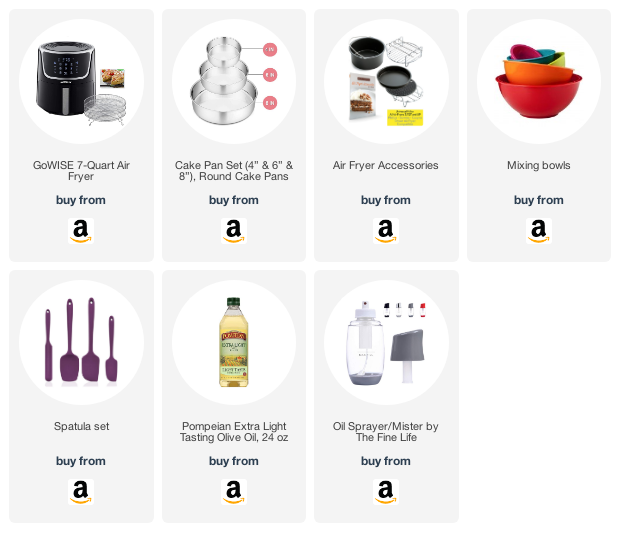 Amazon and the Amazon logo are trademarks of Amazon.com, Inc, or its affiliates.