As an Amazon Associate, we earn from qualifying purchases.
Christmas is right around the corner, and if you're planning a large meal for family and friends or cooking for a small gathering at home, most at-home chefs struggle with what to prepare for the main course. After eating enough leftover turkey to last you until next year, poultry is probably the last thing you want to cook. And if you're looking for something delicious, but want to cook something different than ham, give our citrus maple pork in the air fryer a try.
Why Boneless Pork Chops in the Air Fryer?  More importantly, why Citrus Maple Boneless Pork Chops?
With the savory sweetness of maple syrup and the tangy citrus punch of orange, this delicious marinade will have you salivating. The citrus compliments the flavor of the pork while the maple syrup provides the sweetness of a traditional glazed ham. What makes this dish stand apart, however, is that it's not as salty as ham and serves as a refreshing change from the ordinary. While I used boneless pork chops in this recipe, this marinade is also delicious when preparing a pork roast, pork loin, or pork tenderloin.
In addition to providing delicious flavor, this recipe is also faster than oven roasting, whether you decide to use the marinade on pork chops, pork roast, loin, or tenderloin. When set to the correct temperature, you will find that food prepared in the air fryer takes about a third to a half of the time it would take to prepare in a traditional oven, all while providing a juicy on the inside, crispy on the outside texture.
When paired with cranberry sauce and a crisp Reisling.
Try one of these other air fryer recipes:
Boneless Pork Chops in the Air Fryer (with Citrus Maple)
Keyword:
Air Fried Boneless Pork Chop, Air fryer boneless pork chop, Boneless pork chops in air fryer
Ingredients
Boneless Pork Chop Ingredients
4

thick-cut boneless pork chops

(refrigerator temp)

1/4

cup

pure maple syrup

1

orange (juiced)

1/4

tsp

salt

1/8

tsp

pepper

1

tsp

rosemary
Instructions
Boneless Pork Chop Instructions
Rub pork chops with salt and pepper. Place in a small casserole dish.

Combine maple syrup, juice of one orange, and rosemary in a small bowl. Set aside. (If you are not using the marinade, skip this step)

Pour marinade over pork chops and refrigerate for one hour. (If you are not using the marinade, skip this step)

Preheat your air fryer to 360°F | 183°C for 5 minutes.

Add pork chops to your air fryer basket and cook at 360°F | 183°C for 20 minutes, or until done.

Note: pork must be at least 145°F | 63°C, use a meat thermometer to check.

Top with fresh rosemary and garnish with cranberries and rosemary sprigs.
These tools were used for air frying this recipe.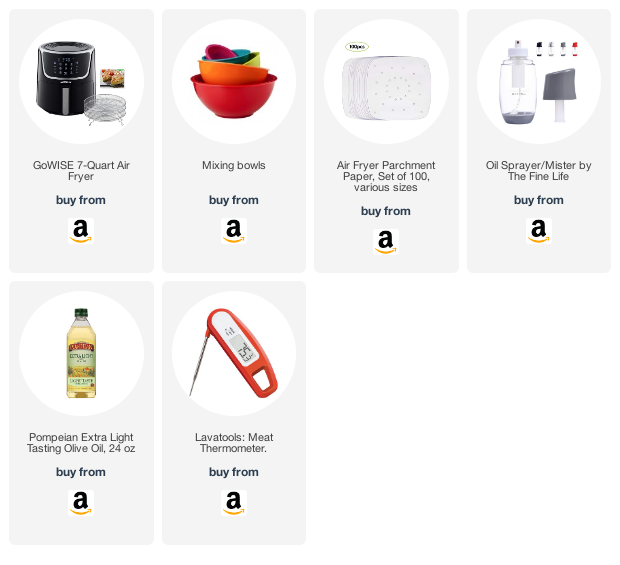 Amazon and the Amazon logo are trademarks of Amazon.com, Inc, or its affiliates.