As an Amazon Associate, we earn from qualifying purchases.
Let's face it. Donuts are not healthy. But then again, no one eats donuts because they think they're healthy. But there's great news! Thanks to your air fryer, you can enjoy delicious air fryer donuts prepared in your own kitchen with a little less guilt. In fact, there's no need for frying oil when using your air fryer. A quick mist of your favorite oil or cooking spray will do the job without soaking the donuts in unhealthy oils full of saturated fat.
While you can make donuts from scratch, a quick and easy way to prepare air fryer donuts your family will love is to use a can of delicious, flaky biscuits. Simply cut a small hole in the biscuit, using a knife, bottle lid, or one-inch biscuit cutter to reduce prep time. In as little as 10 minutes, you can have scrumptious, sugar-coated donuts for a quick, easy breakfast or dessert.
While you can opt for buttermilk or butter-flavored flaky layers biscuits, I opted for the Pillsbury Flaky Layers biscuits with honey butter to add some extra sweetness. An extra option is to create your own sugary glaze or dip in a sugar and spice blend. The result is a fluffy, sugary treat that will kick-start your morning.
Quick and easy Air Fryer Donuts
Make these donuts in your air fryer
Keyword:
Air Fried Donuts, Air Fryer Donuts, Donuts made in air fryer
Ingredients
Ingredients
1

can

Pillsbury Flaky Layers Biscuits

(with honey)

3-4

tbsp

butter
Glazed
1

cup

powdered sugar

2

oz

milk (regular, soy, almond, etc)

1/2

tsp

clear vanilla extract

The brown extract will work, but changes the color of the icing.
Chocolate
3/4

cup

powdered sugar

1/4

cup

unsweetened cocoa powder

3

tbs

milk (regular, soy, almond, etc)
Cinnamon sugar
2

tsp

sugar

2

tsp

cinnamon
Pumpkin Pie Spice
2

tsp

sugar

2

tsp

cinnamon

1/4

tsp

pumpkin pie spice
Instructions
Instructions
In a small bowl, mix together sugar and spices. Pour onto a plate and set aside.

Open the can of biscuits and cut small holes in the middle of each biscuit using a knife, bottle cap, or 1-inch biscuit cutter.

Coat the basket of your air fryer with a few sprays of oil.

Place the donuts in the air fryer, four at a time, depending on the size of your air fryer.

Cook the donuts at 350°F | 177°C for 5 minutes, turning twice for even cooking.

Meanwhile, melt the butter.

Remove the donuts from the air fryer, brushing them with butter.

Dip in the sugar mixture on both sides, or add icing
Recipe Notes
You can also cook the donut holes at 350°F | 177°C for 3 minutes.
Tools and ingredients used in this recipe: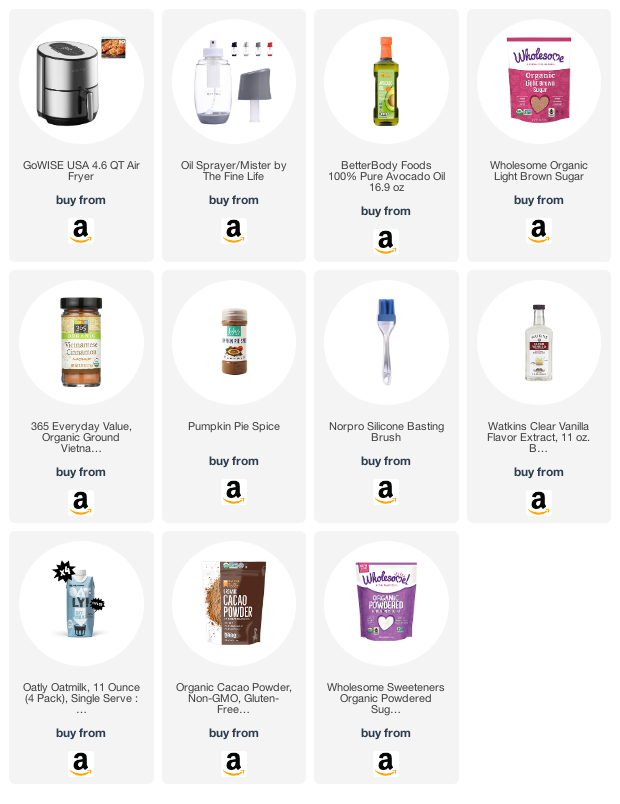 Amazon and the Amazon logo are trademarks of Amazon.com, Inc, or its affiliates.