As an Amazon Associate, we earn from qualifying purchases.
If you're here just looking for the temperature and time, check out our easy to use frozen food cooking time table!
While we all wish we could take the time to prepare healthy meals for our children all the time, the reality is that take-out and on-the-go-meals happen at least once a week. So if you're pinched for time, you can save yourself some grief by cooking some frozen corn dogs in the air fryer.
Most children love this classic meal-on-a-stick, and when time gets away from you, every second counts. Ready in only seven minutes, you can prepare these frozen corn dogs after school, and the kids can eat them while doing homework before soccer, ballet, or karate classes. Seven minutes is less time than it takes to sit in the fast-food drive-thru during the after-school or after-work rush.
Why learn how to cook frozen corn dogs in the air fryer?
True, corn dogs can also be prepared in the oven or microwave, but you have to consider time and texture.
When preparing corn dogs in the oven, it will take between 10 and 15 minutes to preheat the oven and then another 15 to bake the corn dogs. The microwave, on the other hand, will take only a few minutes, but the hot dog will shrivel inside a rubbery battered shell, which will take all the fun out of eating.
Another option is to prepare the corn dog in a deep fryer. There is no doubt that a deep-fried corn dog will taste wonderful, but if you're trying to limit the fat and calorie count to a food that is already unhealthy, then the deep fryer is not an option. Aside from adding fat and calories, the deep fryer will only cost more time once you deal with measuring out the oil and heating it before the cooking process can begin.
However, when prepared in an air fryer, preheating is not necessary, and it will take only seven minutes to produce a delicious, appealing corn dog, cooked evenly and fried to crisp perfection. An additional benefit is that cooking in an air fryer does not require cooking oil, so there is no concern over adding unhealthy fats and calories to the meal.
The end result is a fast, delicious meal your children will love. Serve with ketchup and mustard and pair it with a healthy yogurt or applesauce to ensure the kiddos are getting their nutrients.
Try one of these other great air frying snacks:
Air Fried Corn Dogs
Air fry frozen corn dogs to perfection
Keyword:
air fryer corn dogs, Air Fryer Frozen Corn Dog, Frozen Air Fried Corn dogs
Instructions
Place corn dogs in air fryer basket.

Cook at 390° F | 199° C for 8-10 minutes.

Serve with mustard or a spicy dipping sauce.
Tools for this recipe: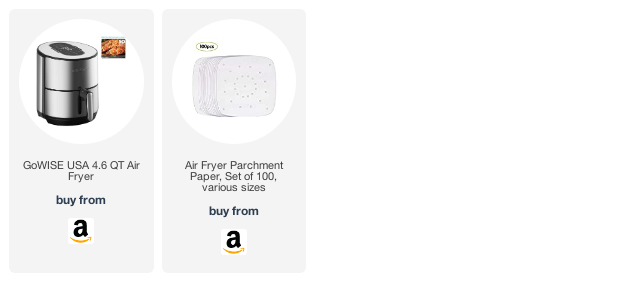 Amazon and the Amazon logo are trademarks of Amazon.com, Inc, or its affiliates.