As an Amazon Associate, we earn from qualifying purchases.
Who doesn't love the convenience of frozen french fries? You open the bag and in 20 minutes, you have a fast, easy side dish. But what if frozen french fries could taste better, finish with an improved texture and be even healthier? Well, now they can. Just use your air fryer to cook frozen french fries and save yourself the time, aggravation and calories of baking or deep frying.
Note: If you are looking for homemade fries in an air fryer, look no further – we have great recipes for homemade air fryer french fries and homemade air fryer sweet potato fries. If you're looking to air fry from frozen, keep reading.
The problem with frozen french fries is in the preparation. When cooked in a deep fryer, they taste great, but they've been soaked in unhealthy oil, adding fat and calories that will add inches to your waistline. Preparing frozen fries in the oven isn't efficient. By the time you've pre-heated the oven to 400 degrees, cooked the fries for ten minutes, flipped them, and cooked for ten more minutes, you've wasted nearly an hour of your life preparing fries that are probably still soggy in the middle.
However, when you cook frozen french fries in the air fryer, you get the same great taste and texture of deep-fried french fries without the unhealthy additional oil. Plus, with rapid air technology, air frying makes for fast, even cook times.
Best Way for Air Frying Frozen French Fries
Frozen French Fries
Cook frozen french fries quickly and easily in air fryer. So good and crispy!
Keyword:
Air Fried Frozen French Fries, Air Fryer Frozen French Fries, Frozen French Fries in Air Fryer, vegetable
Ingredients
Ingredients
1/2 or 1

lb

of your favorite frozen french fries

(my favorite is Alexia brand fries with rosemary and sea salt)
Instructions
Instructions
Pour 1/2 to 1 pound of frozen french fries into your air fryer, depending on its capacity.

Cook at 400° F / 200° C for 15-20 minutes, shaking the basket halfway through. Final cook time will depend on your air fryer's capacity and the thickness and quantity of your fries. A good rule of thumb is to cook for 10 minutes, shake and check at 15 minutes to see if your fries need more time or are ready.
Recipe Notes
Other variations of Air Fried Fries:
Tools and ingredients for this recipe: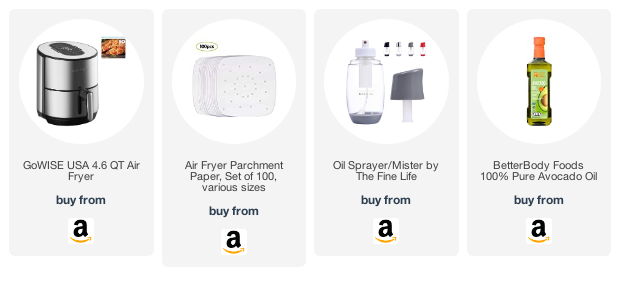 Amazon and the Amazon logo are trademarks of Amazon.com, Inc, or its affiliates.