As an Amazon Associate, we earn from qualifying purchases.
Frying bacon in the air fryer faster, healthier, and cleaner alternative to preparing it in a skillet.   One of the things I dislike most about cooking bacon in a skillet is the mess from grease splatters. Air fryers reduce bacon grease splatters because any grease is contained in the bottom of the air fryer.
Why Bacon in an air fryer?  Less grease, less time.
An additional benefit of using an air fryer to cook bacon is that air fryers reduce odors. When preparing bacon the traditional way, your house will smell like smoky bacon all day, and to be honest, I don't find this odor to be particularly aromatic. Luckily, most air fryers, (including the Chefman model we use), are equipped with odor control features, which help contain food odors inside the air fryer unit and not throughout the house.
The end result is crispy and delicious air fried bacon.
Note: Air frying bacon takes less time to prepare than the traditional pan-frying method.
Try one of these other great breakfast ideas:
Air Fryer Bacon
Cooking fresh bacon in an air fryer
Keyword:
Air Fried Bacon, Air Fryer Bacon, Bacon in the air fryer
Ingredients
4

Slices

Bacon (2 slices per serving)

depending on the capacity of your air fryer.
Instructions
Bacon Instructions
Preheat the air fryer to 350 ° F | 177 ° C for 5 minutes

This recipe calls for a rack so that your bacon doesn't sit in a pile of bacon grease. I suggest the rack, but the rack is optional. Just know, there will be bacon grease cleanup.

Although I tend to prefer a liner for foods such as bacon, but if you can place your rack in a cake pan, your clean up will be significantly reduced. Place 4 strips of your favorite bacon in the basket of your air fryer. If you have a smaller air fryer, you may cut your bacon in half so it fits on the rack.

Cook at 350 ° F | 177 ° C for 10 minutes (add additional time for crispier bacon)
Tools used in this recipe: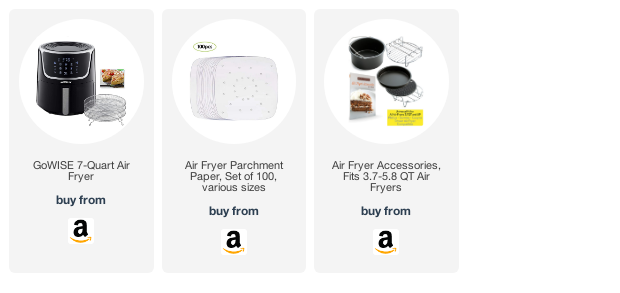 Amazon and the Amazon logo are trademarks of Amazon.com, Inc, or its affiliates.