As an Amazon Associate, we earn from qualifying purchases.
I don't know about you, but sometimes, cooking breakfast for my family can be a chore. While I often resort to grab-and-go breakfasts during the week, it's nice to have a hot breakfast on a Saturday or Sunday morning, or, my personal favorite, breakfast for dinner. But the task of cooking scrambled eggs, bacon, sausage, and pancakes is daunting after a long work week. But my struggles have ended. I now cook frozen sausages in the air fryer.
If you are looking for sausage patties go here: Sausage Patties
The Benefits of Cooking Frozen Sausage Links in an Air Fryer
First, it's efficient. In as little as five minutes, I can prepare sausage links straight from the freezer in my air fryer. While the sausage is cooking, I can focus on other foods, like scrambling eggs and making the pancakes on the stove. I'm guilty of focusing on too many foods at once, and the results usually include rubbery eggs or charred pancakes.
Second, the air fryer drastically reduces the odor. With stove prep, my house will smell like breakfast sausage all day long. Thanks to the odor-reducing properties of air frying, the odor stays inside the air fryer, keeping my kitchen from smelling like sausage.
Third, preparing frozen sausage links in an air fryer reduces grease. When prepared in the skillet, sausages swim in their own grease and absorb it. The only option to remove the grease is blotting with a paper towel. However, in the air fryer, the grease falls into the bottom of the unit, so you can enjoy your breakfast without all the grease.
For other breakfast ideas try one of these breakfast favorites:
Air Fryer Frozen Sausage Links
Prepare frozen breakfast sausage links in minutes
Keyword:
air fried frozen sausage, Air Fried Frozen Sausage Links, Air fryer Frozen Sausage, Air Fryer Frozen Sausage Links, Air Fryer Sausage Links, Sausage Links in the air Fryer
Ingredients
Ingredients
1

package

of your favorite frozen breakfast sausage
Instructions
Instructions
Preheat your air fryer to 400°F | 204°C for 5 minutes.

Line the bottom of your air fryer basket with a parchment liner.

Add Sausage Links to your air fryer basket in one layer. The single-layer makes for cooking the sausage evenly.

Cook at 400°F | 204°C for 5 minutes for Smaller Sausages, and 10 Minutes for Larger Sausages. Your small standard sausage link will take 5 minutes, and a large chicken sausage will take 10 minutes. Determine your sausage type, and adjust time as necessary.

Because of the variety in cook times for sausage links, use a meat thermometer to ensure that your sausage is cooked to 160° F | 71° C.
Tools used in this recipe: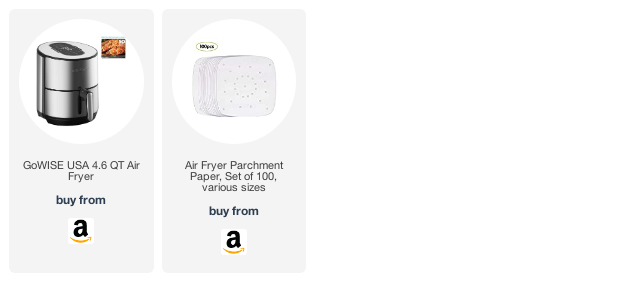 Amazon and the Amazon logo are trademarks of Amazon.com, Inc, or its affiliates.