As an Amazon Associate, we earn from qualifying purchases.
If you are looking for a quick treat to prepare for breakfast or to serve to guests with coffee, cinnamon rolls are always a popular choice. They are delicious, easy, and always a favorite among guests and family members. They make the perfect quick breakfast on holidays and weekends or for any occasion at all. The best news? Your air fryer can make this quick dish even quicker! So we are pleased to tell you how to make air fryer cinnamon rolls!
Air Fryer Cinnamon Rolls: A Faster Alternative
Everyone has their favorite brand. Ours is Pillsbury. Yes, we pop the can open like every other busy American with better things to do than whip up a batch from scratch. We're here to make your life easier. With an 11-13 minute cook time, plus the 15 minutes it takes to pre-heat an oven, you'll spend almost 30 minutes baking cinnamon rolls in a conventional oven.
However, because there is no preheat time, the air fryer can get the job done much quicker.
Air Fryer Cinnamon Rolls: Cooking Time and Temperature
Depending on the capacity and brand of your air fryer, you may need to adjust the temperature and times accordingly. A general rule of thumb with air fryers, especially when it comes to "baking", is to set a lower temperature and reduce the time.
For my FrenchMay air fryer, I find that it takes around 15 minutes at 340°F | 171°C, flipping once. However, my Chefman is a little different. I bake the cinnamon rolls at 360°F | 183°C for 12 minutes, flipping halfway. So if it's the first time you've tried cinnamon rolls in the air fryer, be sure to check them often and make needed adjustments.
For other breakfast ideas try one of these breakfast favorites:
Air Fryer Cinnamon Rolls
Whether you want a breakfast treat or after-dinner dessert these cinnamon rolls are simply divine.
Course:
Breakfast, Dessert
Keyword:
Air Fried Cinnamon Rolls, Air Fryer Cinnamon Rolls, Cinnamon Rolls in Air Fryer
Ingredients
Ingredients
1

can

cinnamon rolls

We used Pillsbury

1

spray

non-stick cooking spray
Instructions
Instructions
Place the cinnamon rolls in the basket of your air fryer, using parchment paper rounds or non-stick cooking spray.

Cook at 340°F | 171°C for 12-15 minutes, turning once. 

Drizzle with icing, plate, and serve.
Tools and ingredients for this recipe: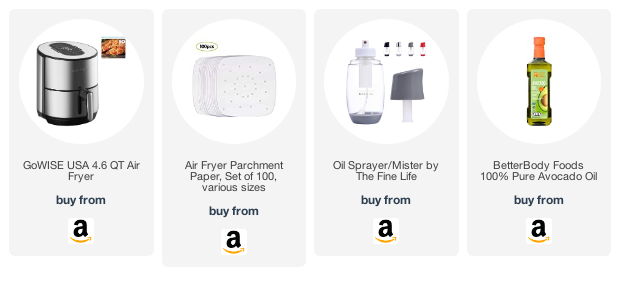 These are great for breakfast or as a dessert. See our other recipes for air fryer breakfast and dessert ideas.
Amazon and the Amazon logo are trademarks of Amazon.com, Inc, or its affiliates.