As an Amazon Associate, we earn from qualifying purchases.
One of my husband's favorite dishes is duck prepared with orange sauce. However, being that whole ducks are longer than whole chickens, it's challenging to find one that will fit in the air fryer. And, like preparing whole chicken, sometimes I simply don't have time to wait by the oven for two hours while it cooks. But what to my wondering eyes should appear during my last Aldi run? A fully cooked half-duck, which is sure to be a staple in my home from now on. So, hold onto your hats, duck lovers. Here's how to prepare an air fryer roasted duck.
Roasted Duck in the Air Fryer: Impress that Special Someone
Served as a delicacy at most fine restaurants, roasted duck is a tasty, tender alternative to chicken or turkey.
While it is delicious with rosemary and mushrooms, the most popular way to serve this dish is with sweet, spicy orange sauce. Another of my husband's favorite treats. Serving duck is different from the norm, and because it's all dark meat, you'll find this waterfowl to be moist and savory.
It can be dressed up or down, depending upon the occasion, but never fails to impress the special people in your life, whether cooking a romantic dinner for two or preparing a meal for a larger group.
Easy Roasted Duck in the Air Fryer
While I didn't cook this from its raw state, this fantastic fully cooked find was ready in minutes.
Served with quick, simple sides, like rice and green beans, you'll only need 15-20 minutes to prepare this impressive meal. The air fryer doesn't require any pre-heating time, and because this dish was fully cooked already, your only effort is really to heat it thoroughly and baste it with the orange sauce, which also came prepared with the duck.
I can't say enough about this meal. My husband came home from a long day at work to his favorite dish and glass of wine and savored every bite. This dish will definitely make the meal rotation!
Roasted Duck in the Air Fryer
This simple roasted duck recipe is quick and delicious in your air fryer. 
Cuisine:
American, Chinese, French
Keyword:
Air Fried Roasted Duck, Air Fryer Roasted Duck, roasted duck
Ingredients
Ingredients
1

fully cooked half-duck

orange sauce
Instructions
Instructions
Place the half-duck in your air fryer basket.

Cook at 360°F | 183°C for 12-15 minutes. 

Drizzle with orange sauce and serve!
Try one of these other wonderful air fryer recipes:
Tools and ingredients for this recipe: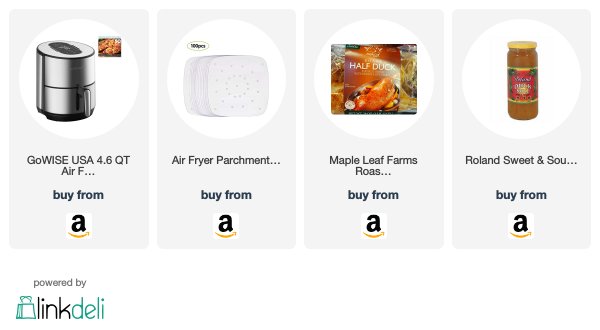 Amazon and the Amazon logo are trademarks of Amazon.com, Inc, or its affiliates.