As an Amazon Associate, we earn from qualifying purchases.
Are you looking for an indulgent breakfast that's quick, easy, and healthy? How about digging into the all-time favorite American breakfast, French Toast? Here's the catch. It's not the usual recipe you'll be seeing here. Try out our healthy alternative French Toast in the air fryer.
Whether you're a hands-on parent or on-the-go employee who doesn't have the liberty of time to prepare a scrumptious breakfast over the stove, this recipe perfectly suits you. Have it ready in less than 15 minutes, a perfect go-to breakfast before heading out. Grabbing some bites no matter how busy you and your kids are should be on top of the list. Start the day right with a happy tummy. Just in case you have more time to spare, a heavy breakfast like Air Fried Spinach Quiche would be worthy to get your hands busy.
Have your morning French Toast without the grease! Whisk some eggs, milk, and cinnamon together for the perfect egg wash for your bread. Use any type of bread of your liking. For this recipe, I used Brioche Chocolate Chip Bread for that rich and deeply satisfying feeling that is enough to jumpstart my family's day. Ditch the oil, and simply use an amazing air fryer! Have an oil-free French Toast that won't add more calories than what your body actually needs. That's a check for those who want to watch what they eat. Here's a guilt-free, satisfying Air Fryer French Toast recipe that is easy to make and deliciously cooked.
For other breakfast favorites, try one of these delicious recipes.
Air Fryer French Toast
Air Fryer French Toast
Keyword:
Air Fried French Toast, Air Fryer French Toast, French Toast in air fryer
Ingredients
Ingredients
1/2

cup

milk

2

eggs

1

tsp

cinnamon

1/2

tbsp

powdered sugar

1/4

tsp

vanilla extract

4

slices

bread

We used Brioche Chocolate Chip bread.

maple syrup
Instructions
Instructions
Preheat your air fryer to 360° F | 176° C for 5 minutes.

Combine milk, eggs, and cinnamon, sugar into a bowl. Whisk the mixture with a fork until well mixed.

Dip the slice of bread into the egg wash.

Place a parchment paper in the air fryer before putting each slice of bread.

In a single layer, air fry for 6 minutes at 360° F / 165° C, flipping the french toast halfway through cooking at 3 minutes.

Remove the freshly cooked French Toast from the air fryer.

Put it on a plate. Sprinkle powdered sugar on top and add maple syrup if desired.
For french toast sticks
Cut your french toast into 1" strips
Tools and ingredients used for this recipe: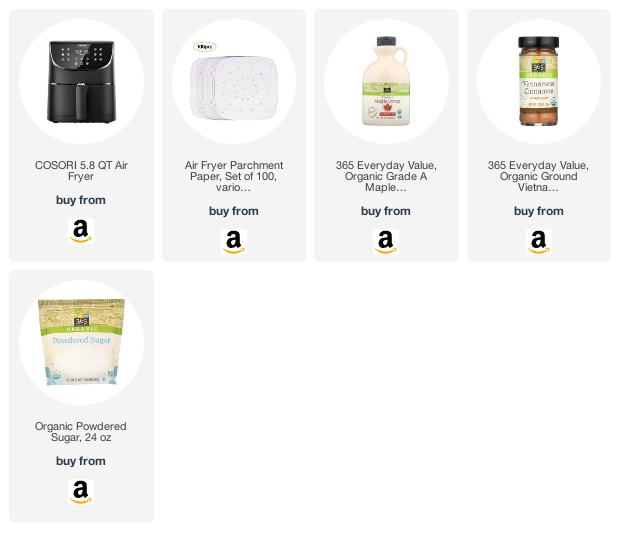 Amazon and the Amazon logo are trademarks of Amazon.com, Inc, or its affiliates.