As an Amazon Associate, we earn from qualifying purchases.
Are you craving for some mouth-watering Chicken Parmesan? Make your family dinner extra special by having an Air Fryer Chicken Parmesan paired with Pasta. Not only is it delicious, but also healthier than the original Italian staple dish. Enjoy a juicy chicken inside, topped with rich and tasty marinara sauce and gooey melted mozzarella cheese. One bite, and it will surely warm your heart.
An appetizing dish like chicken parmesan in air fryer can be your go-to dinner for your family without the usual unhealthy oil and mess of splattering oil all over the stove. You know what a pain it is to make your kitchen spick and span after frying! There's no need to go through that dreadful task again when you can simply use an air fryer. Did I mention that cooking this dish is also quick and easy? Follow this recipe that your family will fall in love with and dig into a nutritious alternative dinner. With a glass of red wine that goes well with Air Fryer Chicken Parmesan, your dinner could become a romantic affair.
Would you love to try out more Italian chicken recipe? Check out another flavor-packed dish, Air Fryer Tomato Basil Chicken that is perfect for the scorching summer heat.
Other wonderful air frying recipes:
Chicken Parmesan
Air Fryer Chicken Parmesan
Keyword:
Air Fried Chicken Parmesean, air fryer chicken parmesan, Chicken Parmesean in air fryer
Ingredients
Ingredients
4

Thawed chicken breasts (thin-sliced, boneless, skinless)

(We used thinly sliced for our recipe)

8-16

oz

angel hair pasta/vermicelli

8oz half a box, but if you prefer more pasta, use the entire 16oz box.

1

jar

marinara sauce

2

cups

Italian bread crumbs

2

eggs

1/2

cup

parmesan cheese

1/2

cup

mozzarella cheese

for topping

1

tsp

Italian seasoning
Instructions
Pasta Instructions
Cook pasta in a saucepan, set aside. About 9-10 minutes, depending on the box directions.

Strain the pasta and set aside.
Chicken Parmesan Instructions
Preheat the air fryer to 370° F / 165° C for 5 minutes.

Beat eggs in a medium-sized bowl.

Combine breadcrumbs, and parmesan cheese in a separate medium-sized bowl.

Rinse and pat dry chicken breasts.

Dredge chicken breasts in the egg wash and then coat in the bread crumb parm mixture.

For easier clean up you may add a liner or spray the air fryer pan with oil, and add the chicken breasts to the heated air fryer pan. Spritz oil on top of the chicken breasts, and air fry at 370° F / 165° C for 10 minutes. Gently, turn the chicken after 5 minutes.

Sprinkle Italian seasoning, marinara sauce and, mozzarella cheese on top of the chicken breasts.

Cook the chicken at 370° F / 165° C for 5 more minutes.

Plate the pasta, then, place the chicken breast on top of the pasta. Add any extra Mozzarella you desire, and Enjoy!
Tools and ingredients used in this recipe: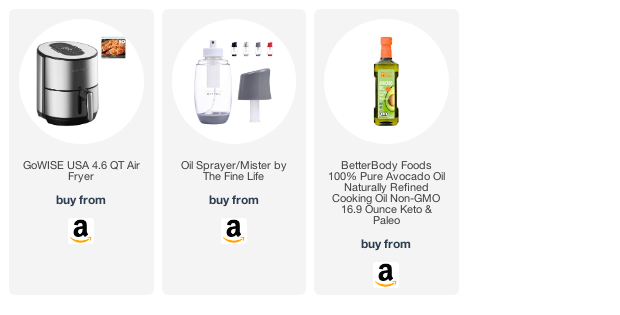 Amazon and the Amazon logo are trademarks of Amazon.com, Inc, or its affiliates.