As an Amazon Associate, we earn from qualifying purchases.
Air fried foods that can be prepped easily for lunch, dinner, and snack time frequent air frying and cooking blogs and social media sites. But what about breakfast? One of the greatest features of air frying is that you can cook practically any food with the simple touch of a button. So, in honor of the most important meal of the day, we at air frying proudly present: Air Fryer Breakfast Recipes.
From frozen breakfast favorites to culinary classics, breakfast can be prepared in as little time as it would take to wait in the morning rush line at your local fast food biscuit shop. Breakfast favorites like bacon and eggs, breakfast sandwiches, muffins, and even the best toast you've ever eaten will liven up your morning meal rotation.  These are THE air frying breakfast staples.
Top 11 breakfast foods to prepare in an air fryer:
11 – Bagels – If you are like me, and no longer own a toaster, nor a toaster oven, try a bagel in the air fryer.
10 – Homefries/ Breakfast Potatoes –  Requires less cleanup than a griddle or a frying pan.
9 – Hard-Boiled Eggs –  Half the time, same great egg.
8 – Cinnamon Toast – Whether you like one side with sugar or both, the air fryer does it well.
7 – Bacon – I love bacon, the crispier the better.   Yes, you can make bacon in the air fryer without the bacon frying in its own grease.
6 – Muffin Quiche – Incredibly easy in the air fryer.   Give them a try.   you can make a batch and eat them all week long.
5 – French Toast – Easy Peasy.  Yes, you can do it in an air fryer.
4 – Biscuits – Takes very little time.  Air fryer baking is easy peasy. Done in just 8 minutes.  Really.
Air Fryer Buttermilk Biscuits
Save valuable time in the kitchen by trying these delicious air fryer buttermilk biscuits.
Check out this recipe
3 – Sausage Links – Sausage Links air fry in half the time as patties.
2 – Hash Browns – From air fryer to plate in 15 minutes
1 – Cinnamon Rolls – Cinnamon rolls are perfect in the air fryer, finished in just 12 minutes.
Air Fryer Cinnamon Rolls
Whether you want a breakfast treat or after-dinner dessert these cinnamon rolls are simply divine.
Check out this recipe
Try one of these other great air frying articles:
These recipes were created using these air frying tools: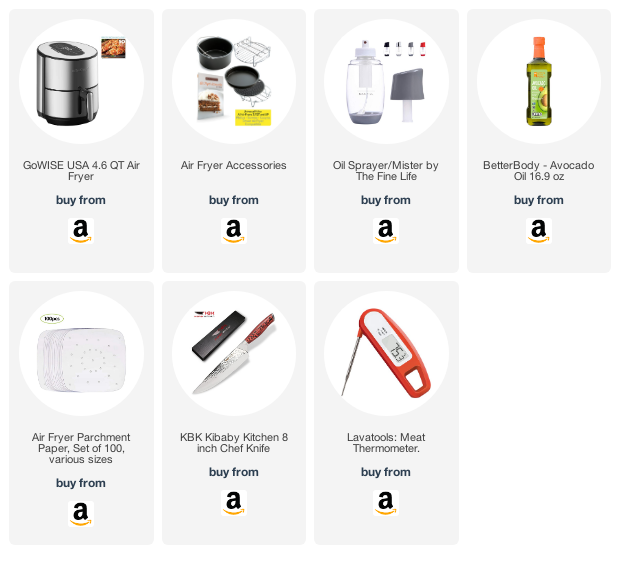 Amazon and the Amazon logo are trademarks of Amazon.com, Inc, or its affiliates.