As an Amazon Associate, we earn from qualifying purchases.
As the Fourth of July holiday approaches, many families are preparing for cookouts with families, friends, co-workers, and loved ones. Depending upon how many people you are hosting at your Independence Day shindig, you may need some extra help in the kitchen, especially if you're out of room on the grill. That's where your air fryer comes in handy. Whatever your grill can't handle, your air fryer can pick of the slack. That's why Airfrying.net has provided your Fourth of July Menu, Air Fried.
So, whatever is on the menu for this holiday bash, let your air fryer help you out. From main courses to sides, a variety of traditional Fourth of July foods can be cooked to perfection in your air fryer. From ribs and burgers to French fries and corn on the cob, Airfrying.net has you covered in this recipe compilation.
Classic Burgers and Hot Dogs
If you're planning a meal of classic cheeseburgers, vegan black bean burgers, turkey burger, or hot dogs, consider preparing all or some of them in the air fryer, especially if your outdoor grill master is feeling overwhelmed with the cooking load or if, heaven forbid, rain should put a damper on your outdoor barbecue. Cooking burgers and dogs in the air fryer is quick and simple. With the rapid air technology of the air fryer, your burgers and dogs will cook quickly and evenly without drying out.
We suggest pairing your cheeseburgers with all the trimmings, as well as a variety of potato chips, dill pickles, and baked beans. For dessert, a fruit bowl with watermelon, cantaloupe, and grapes is always a winner on a hot day spent outside.
Pair the hot dogs with some delicious toppings, like cheese, chili, sauerkraut or slaw. Serve with a variety of chips or fries, as well as baked beans. For dessert, we suggest classic ice cream sundaes with fresh fruit, hot fudge, whipped topping and a cherry to top them off.
Country Style Ribs
Pork Ribs and Beef Ribs are always a popular choice for a  Fourth of July cookout, and they also taste great when cooked in an air fryer. By rubbing them in a mix of your favorite spices and adding a choice of barbecue sauce or other glazes, you're sure to have something each guest will find appealing. For ribs, we recommend sides of potato salad and baked beans with brown sugar and molasses, as well as an offering of chips or fries for those who do not care for potato salad. For dessert, finish off the meal with a delicious blueberry pie or blackberry cobbler, which makes for a festive treat.
Barbecued Chicken
Whether you are cooking chicken leg quarters, wings, drumsticks, or tenderloins, chicken is always a great offering at a Fourth of July gathering. If you are expecting a lot of guests, it's never a bad idea to throw some of the chicken on the grill and some of it in the air fryer in order to cook for more guests simultaneously.
We recommend pairing your chicken with delicious corn on the cob, which can also be prepared in the air fryer, as well as sweet potato fries, coleslaw, and fruit salad. For dessert, consider pairing the savory chicken with apple pie and ice cream.
Please see below for our delicious sweet and savory barbecue sauce recipe, perfect for chicken, ribs, and wings.
Sweet n' Sticky Barbecue Sauce
Keyword:
Barbeque Sauce, Sauce for bbq, Sweet and Sticky Sauce
Ingredients
Ingredients
1

Tbsp.

vegetable oil

1

onion, diced

1

tsp.

dried mustard

3

Tbsp.

brown sugar

1

tsp.

Worcestershire sauce

1

tsp.

lemon juice

1

cup

ketchup
Instructions
Instructions
In a large saucepan, heat oil and cook diced onion over medium heat until translucent.

Add all ingredients, stirring together over medium heat until sugar is melted.

Use to glaze chicken, pork, or beef.
Recipe Notes
Online Ingredients:
Tools and ingredients used in this recipe: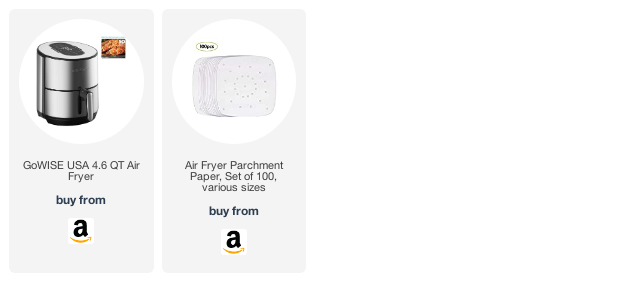 Amazon and the Amazon logo are trademarks of Amazon.com, Inc, or its affiliates.