As an Amazon Associate, we earn from qualifying purchases.
Whether you have adopted a vegan or vegetarian lifestyle or simply wish to add a meatless Monday to your weekly meal rotation, this air fryer eggplant makes a perfect main course or delicious side your entire family will love. 
Why Air Fryer Eggplant?
Before cooking eggplant, there are a few things to note about this nutritious nightshade vegetable. First, it is full of fiber, particularly in the skin, which can be left on or removed with a vegetable peeler, depending upon your personal preference. The skin also contains phytonutrient believed to protect brain cells from damage. When cooked, the skin is tender and can be eaten without an unpleasant texture. However, some choose to remove it because the added fiber can cause stomach upset in those with more sensitive systems.
In addition to fiber and phytonutrients, eggplant is also packed with B vitamins, potassium, folate, Vitamin K, and antioxidants.
Please see our recipe for air fryer eggplant below, which has a few options. Serve this fried eggplant as a delicious side, add it to a salad or stir fry, or serve it over quinoa or pasta. My favorite way to eat this delicious nightshade veggie is with pasta and marinara for a delicious eggplant Parmesan meal.
Other great veggie recipes:
Air Fryer Eggplant
Keyword:
Air Fried Eggplant, Air Fryer Eggplant, Eggplant in the air fryer
Ingredients
Ingredients
1

Eggplant

1/2

cup

Italian bread crumbs

2

eggs or vegan egg replacement

salt and pepper to taste

1

Tbsp.

Olive or Vegetable oil
Instructions
Instructions
Cut the eggplant into 1/4 inch slices. Sprinkle both sides with salt and pepper.

Dip the eggplant in the egg or egg substitute and then dredge in the bread crumbs.

Spritz the basket of your air fryer with oil. Add the eggplant coins in a single layer.

Spritz the tops of the eggplant with oil and cook at 370 ° F | 165 ° C for approximately 20 minutes, flipping halfway through cooking time.

Remove from air fryer and serve over pasta with your favorite marinara sauce.
Tools and ingredients used in this recipe: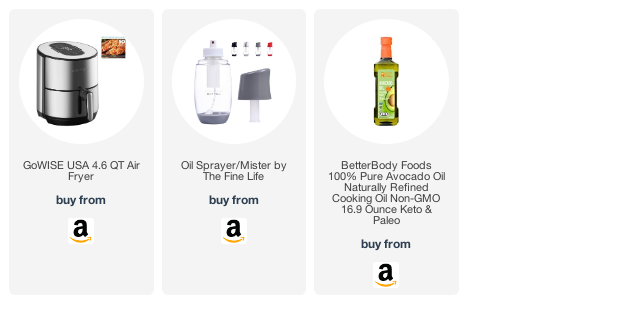 Amazon and the Amazon logo are trademarks of Amazon.com, Inc, or its affiliates.