As an Amazon Associate, we earn from qualifying purchases.
With low-carb diets that eliminate gluten on the rise, more and more people are searching for that perfect pasta substitute. While most people opt for "zoodles", made from cold zucchini, I much prefer the savory-sweet flavor and hot temperature of spaghetti squash. There are various ways to prepare spaghetti squash, from the oven to the slow cooker, but my personal favorite method is in the air fryer. Which begs the question of how to cook spaghetti squash in the air fryer. We're so glad you asked!
Why Learn How to Cook Spaghetti Squash in the Air Fryer?
Spaghetti squash is easy to cook, for the most part, but it is really important not to overcook it. In fact, I recommend cooking spaghetti squash in the air fryer for two reasons:
First, it's faster. An average-sized spaghetti squash cooks in the air fryer in around 25-30 minutes. In the oven, it will likely take at least 45 minutes to cook perfectly.
Second, the air fryer cooked texture will be better. What I have found in numerous cooking methods–microwave, slow cooker, pressure cooker, or conventional oven–is that it's difficult to achieve the perfect texture. It's either too raw or too mushy. In fact, when cooking in the slow cooker, spaghetti squash can become too mushy, congealed, or nearly liquid. However, air frying produces the perfect al dente texture.
Why Spaghetti Squash?
Whether you're looking for a low-carb pasta alternative or simply want to try a delicious new veggie, the spaghetti squash is an excellent choice. I find that it has a sweeter flavor and more appealing texture than butternut squash, which is why spaghetti squash is a staple in my meal rotation. While this scrumptious squash is delicious as a stand-alone side to pork and chicken dishes, my favorite thing to cook is spaghetti squash "pasta".
Now, I'm not going to lie. You and I both know that no vegetable on earth will ever be a satisfying replacement for the sinful delight of high-carb pasta. However, if you still like the comfort of pasta but are taking it easy on the carbs, spaghetti squash pasta is a delicious alternative. It tastes great with creamy alfredo sauce, as well as savory tomato gravy, and it's much healthier than dried pasta.
Try one of these other great air frying recipes:
Spaghetti Squash in the Air Fryer
Keyword:
Air Fried Spaghetti Squash, Air fryer Spaghetti Squash, Spaghetti Squash
Ingredients
1

Spaghetti Squash

make sure it fits in your air fryer basket!

1

tsp

olive or avocado oil

I prefer avocado oil

1

tsp

salt

1/2

tsp

black pepper
Instructions
Cut the ends off your spaghetti squash, then split it lengthwise, creating two halves. Scoop the seeds out.

Brush both halves with oil and sprinkle with salt and pepper.

Place both halves, with the cut side up, in your air fryer basket and cook at 360 ° F | 183 ° C for 25-30 minutes. 

Halfway through cooking, use a fork to fluff the "spaghetti" to ensure even cooking.

Serve as a side dish or use as "spaghetti" beneath sauce or tomato gravy.
Tools and ingredients used in this recipe: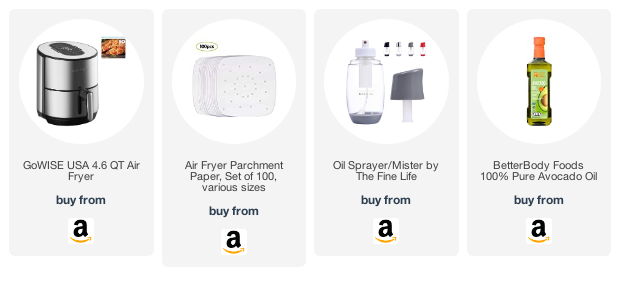 Amazon and the Amazon logo are trademarks of Amazon.com, Inc, or its affiliates.